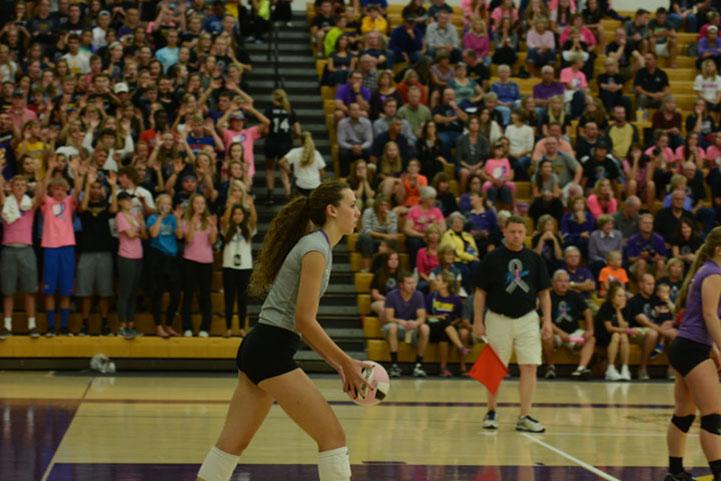 Esmerelda Flores
In a family full of Division I college athletes, junior Taryn Knuth is the only one who decided to take her talents to a college outside of the midwest. Knuth has signed to play indoor and sand volleyball at Florida State University, located in Tallahassee, Florida.
Parental support of athletics was crucial in the case of all of the Knuth siblings signing to Division I schools. Both Taylor, 2009 graduate, and Tory, 2011 graduate, played volleyball at Iowa State. Jay Knuth, 2014 graduate, plays basketball at Loyola University in Chicago. Both of the sibling's parents, Dawn and Jim Knuth, also played Division I sports. Dawn played basketball and softball at Drake University, while Jim played football at Iowa State University. "Having all four kids play sports was kind of a way of life for us," Dawn said. "They all started playing at a young age, and played several different sports. As they got older they gravitated towards their favorites and as they started playing at a higher level, the opportunity to play at the Division I level presented itself." 
Taryn has played organized club volleyball since fourth grade, and her passion has only grown over the years. "I basically grew up in a gym, going to all my practices and tournaments, and all my sibling's tournaments," Taryn said.
Rick Brooks, varsity volleyball coach, has been coaching Taryn all her years of high school, and both of her older sisters, Taylor and Tory, for each of their four respective years of high school as well. "Taryn has a lot of natural talent, and things you can't coach," Brooks said. "Hopefully the training throughout the season helps her improve her fundamentals, and then also improve her ability to hit different shots and blocking technique. Helping her to play all the way around on the court will benefit her well."
Much of Taryn's more intensive training comes from playing club volleyball for Iowa Power Volleyball Alliance. "Club volleyball is a really high level of training and play all throughout the week," Taryn said. She has even traveled to different states to train. "I trained at the Olympic Training Center in Colorado Springs last December with a lot of other girls that are at the same high level I'm playing at."
Taryn was recruited by numerous Division I colleges, for both volleyball and basketball. She decided to play collegiate volleyball about a year and a half ago, choosing Florida State over other schools such as Illinois, Nebraska, Purdue and the University of Southern California. "During club season, there are a bunch of college coaches that come to all of our games and watch us play," Taryn said. "That's when they start getting in contact with you and recruiting you."
There was some pressure present on Taryn to play Division I athletics, from both her family and internally. Taryn's oldest sister, Taylor, thinks that the decision for Taryn was stressful but at the end of the day it truly was just Taryn's decision. "No matter who you are or what you do, there's always pressure to do just as good or exceed someone else, whether it's your siblings, friends, or whoever," Taylor said. "So I'm sure growing up she (Taryn) felt a little bit of pressure being the youngest and all. But in this case, she ended up blowing us all out of the water and we are all very happy for her and proud of her."
Taryn agrees with her sister. "I felt pressure obviously with the expectations of my siblings and my parents," Taryn said. "But I decided that I wanted to play, and that's just a goal I had for myself. It helps to carry on the tradition in my family."
Volleyball has impacted Taryn's life in a positive way, and she is excited for her collegiate volleyball career. "I've met a lot of my closest friends through volleyball," Taryn said. "That makes it so fun to play with my teammates. Without it, I don't think I would have become the person I am today."