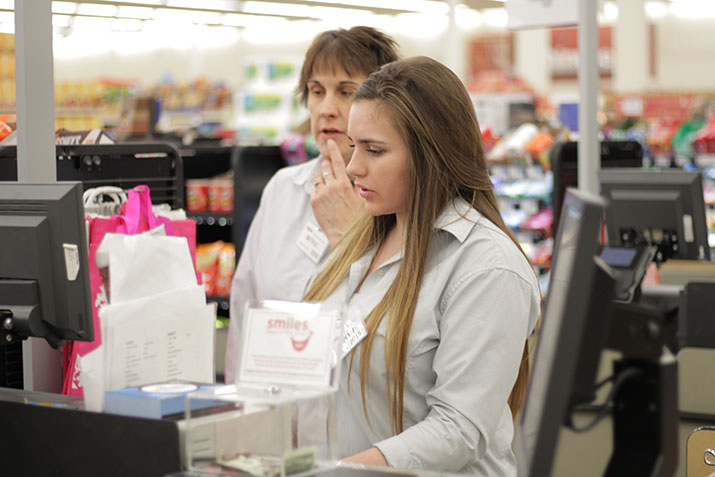 Adina Blazevic
April 4, 2017
Adina Blazevic '18 is an HR management intern at Johnston HyVee. As part of her internship, Blazevic deals with customer complaints, supervises the front end which includes checkers and courtesy workers and directs them when the managers are not there.
Blazevic performs other tasks like helping the HR manager with the work schedule, and other more big-picture things. "We talk about markups and gross profit, like how we can make money as a store, what we need to sell items as to make money, etcetera," she said.
Out of all of her classes, Blazevic believes that School to Work is one of the most helpful. "I think it's probably the only class in this high school that prepares you for after high school and after college," she said.
The class has played a major role in helping her decide what she wants to do after high school. "I want to go to college and it helped me decide that I want to go for business management HR, so it helps you get a light on 'do I actually want to commit x amount of years college and money to this field'," she said.
Blazevic is a unique case since she is the only junior in the School to Work class. The class is ideal for seniors so that they can get internships throughout the school year that hopefully last through college. "I was just lucky that I got in as a junior," she said.
Blazevic now 17, was 16 when she started. "I was like the youngest supervisor they ever had," she said. "I was literally supervising people that were seniors that are checkers so that was little awkward."
She said it took a long time to gain people's respect. "People would blow me off and say stuff under their breath but it got better eventually," she said.
There have also been some difficulties from a time perspective because Blazevic had to maintain the hours she was already working at Hy-Vee prior to her internship. "I worked like 25 hours a week during school even before School to Work because I have a lot of stuff to pay for," she said. "It makes it a little bit more difficult because I have less time to get stuff done."
"
(School to work) is probably the only class in this high school that prepares you for after high school and after college."
— Adina Blazevic
Nevertheless, valuable opportunities have come out of the School to Work class. For example, Volesky brought in professionals from local businesses like Pioneer to conduct mock interviews with the students. "The guy who interviewed me from Pioneer offered me a job," Blazevic said.
Additionally, Blazevic has gotten opportunities from her internship. "[HyVee] told me that they want me as an assistant this year and this summer, so I'll probably just work as an assistant my senior year," she said.