Baseball Comes to Iowa
Field of Dreams hosts MLB game.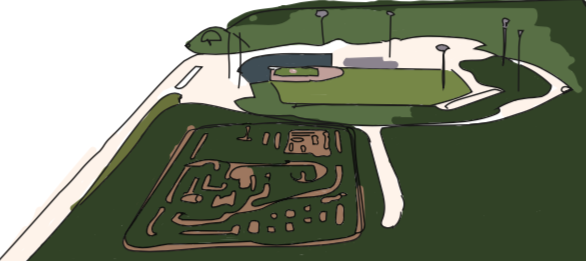 The Field of Dreams is iconic, surreal, and to some, heaven.  This baseball film was produced and released in 1989. The movie's screenplay was written and directed by Phil Alden Robinson. The Field of Dreams was an adaptation of W.P. Kinsella's book 'Shoeless Joe'. Kevin Costner plays Ray Kinsella, an Iowan farmer who constructs a baseball field in his plot of corn, attracting the ghosts of baseball legends. This movie is undeniably a classic sports film, and on August 12, 2021 an exhibition game was played between the New York Yankees and the Chicago White Sox. The game was significant because it was the first major league baseball game to be played in the state of Iowa. This game brought national attention to Iowa, a state that is otherwise all but irrelevant in the MLB. The night began with Kevin Costner walking out from the cornfield to throw the first pitch, a great moment to initiate an extraordinary game.
In the bottom of the first inning, White Sox first baseman José Abreu hit the first homerun of the game and the first major league home run in Iowa. Lance Lynn was the starting pitcher for the White Sox while Andrew Heany earned the starting nod for the Yankees. The Yankees had eight total hits, as did the White Sox. The final score of the game was nine to eight, ending in a White Sox victory. 
This game could not have played out better. The Giancarlo Stanton home run in the top of the 9th inning that gave the Yankees the lead was nothing short of electrifying. But the game's climax happened when Tim Anderson of the White Sox crushed a 94 mph fastball deep into the jetblack night sky. The roar of the crowd and the fireworks illuminating the night sky capped off a great game, and one that won't soon be forgotten.
The movie, as well as the actual Field of Dreams is a big part of Iowan culture and a great tourist attraction. The game helped spark interest for baseball during the second half of the season, helping to bring attention to the state of Iowa and the small town of Dyersville, in northeast Iowa. The game itself didn't come cheap. The temporary stadium that seats 8,000 spectators cost six million dollars to construct. Tickets cost anywhere from 1,400 to 10,000 dollars. But people still came, official attendance was 7,382, with 5,903,000 watching on TV. The viewership ranks as the most watched regular season MLB game since 2005.