Bonnie and Clyde the Musical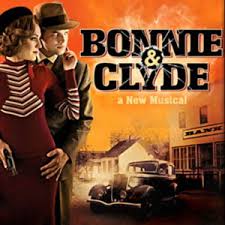 Bonnie and Clyde the musical was released in 2009 and was created by Frank Wildhorn. The lyrics were written by Don Black and had a book written by Ivan Menchell. It follows the surprising true story of the couple Bonnie Parker (played by Laura Osnes) and Clyde Barrow (played by Jeremy Jordan). This musical appeared on Broadway in 2011 and did not do well. I however liked the music and the story.
The story of Bonnie and Clyde has always been an interesting one. The couple were lovers and criminals who travelled the country robbing people and killing whoever go in their way. To base a musical off of the  killings and lives of a crazy couple was imaginative. The story was also represented well in the music. For example the song This World Will Remember Me. This was when Bonnie helped Clyde break out of prison and he kills someone. It is a very powerful song and a good song overall.
Another great part of the musical was the music. It was not the normal music that you would expect from a musiccal. It was jazzy and exciting and very different sound. It fit the time period and transported you back into the time of the Great Depression. It also did not really make me think about murder. It was the type of music that people dance to.
Overall, it was a good musical. It was not great but it is definitely one that I would watch in my free time. Total review of 3.5/5 stars.