Books to the auction
November 28, 2016
Library books are being discarded from the school's shelves, signaling the changing of times. Some students are excited to be able to take home some of the discarded books. The empty shelves have caused people to wonder about what has happened to the books and why they are disappearing at such a massive rate.
Librarian Ruth Thoreson urges people to accept this change, saying it is routine and happens every year. Thoreson sorts through each book, taking out the ones that have gotten worn out or with pages that have yellowed. "It's like cleaning your closet to make room for new books," Thoreson said.

For the last two years, the library has been going through deep cleaning to prepare for the move to the new high school. Thoreson started last summer, shifting through all the books that were damaged and old, or books people do not pick up anymore.
Another reason for the loss of so many more books than normal is new ways to find information. "We have some things now that we have on e-books," Thoreson said. "We don't necessarily need to have print copies. Some of the classics that not many people read now but we still want to have [are on e-books]."
It is the same for reference books. "They've been replaced with databases," Thoreson said. "A lot of those databases made them obsolete. A lot of them were thick and heavy and were getting old really fast." Most people would not come into the library in order to find normal information if they have access to a computer instead. Textbooks are mainly online, so the library does not carry more than a few copies.
It is always hardest for Thoreson to sort through and get rid of the older fiction books. "It's a great story, but the cover's old, the page is yellow," she said. "The interest has died out. There's many reasons to throw them out."
With books being paid for by government funds, schools are not allowed to trash, sell or donate books. Instead, Thoreson gives them to students. "That's my first step," she said. "Put [them] out so that anyone who wants to have them can have them."
Substitute teacher Chuck Watkins stops by the discarded books cart occasionally. "I'm always grabbing something or other," Watkins said.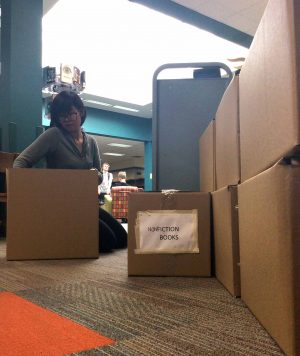 Watkins kept a large stack of books on his desk that he had grabbed from the discarded books. They were for his youngest daughter, who is interested in animals. It was the third time this year he had taken from the discards. Once before, he managed to take home an 18-inch-tall tower of cookbooks.
Her other option is to enter them into a government approved way of selling books. "They will go to a warehouse and they will be offered up on a government [auction]". It is a government surplus online auction that bids off everything from agricultural items to school suplies to real estate.
Thoreson described the process of getting the books ready for auction. "We check them out of the system, take the lables off, write discard on the book and box them up." Thoreson said. They need new boxes since they are going through all of the books so quickly.
Most of the time when people go to the library, they're there to check out passes for their study hall periods and only come in to talk with friends, work on the computers, and create towers from blocks. Other things that are checked out regularly are cameras and camera equipment. On the average day, only four or five books are checked out of the library.
Emily Wagner '18 checks books out of the library only a couple of times a semester. She had taken home ten books over the summer, and currently has one book in her backpack. "I check out manga often, but actual books maybe once every semester, but manga maybe one every other week." She is happy with the book selection in the library and is almost always able to find a book she is interested in with the help of other friends.