Boy Erased: An Outcry for Acceptance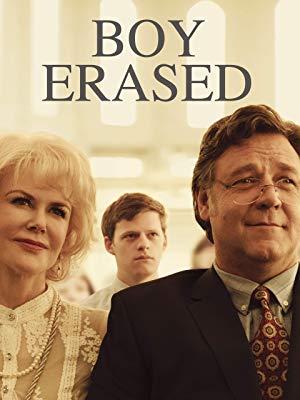 As a member of the LGBTQ+ community, we constantly face adversity. Constant hate and anger towards our community is never shocking. But as people, we still receive enough acceptance and love to keep us going. As people have grown to acceptance, we constantly rise above that hate. But we never knew that our main attackers are still operating in many states. Those attackers are conversion camps. Camps that are made to force people of any sexual or gender identity to become what they perceive as normal. This is never more evident than in the 2018 film "Boy Erased". This film pushes the boundaries when showing what its like to be surrounded by hate. With amazing Characters, Music, Cinematography, Story and Acting, this film pushes towards being one of the best of the year.
"Boy Erased focuses" on Jared Eamons played by Lucas Hedges, a fresh out of high school 19 year old with goals of becoming a writer. Jared is also defined by his parents, Nancy and Marshall. "Marshall" played by Russell Crowe, is known as the pastor in their communities church. Nancy played by Nicole Kidman, is one of the most loving people in the entire film with her focus relying mostly on caring for Jared. These characters cause a strange dynamic that is at times mortifying yet interesting. The story shifts in a completely opposite tone as soon as Jared goes to college, and faces a disastrous chain of events to happen which help lead to the realization of his sexuality. The film goes completely in that direction as Jared tells his parents that he thinks about men. Their reaction was utterly horrifying because his father immediately calls other pastors that he know and cause them to ask god to take back his "curse". These pastors recommend the Love in Action conversion therapy assessment program. As Jared arrives and stays at the camp, the plot unravels into a complete survival story. Victor Sykes played by Joel Edgerton, is shown as the ring leader and main antagonist in the film as he completely goes against other peoples morals. He truly shows how radical these camps can be.
The acting in this film is simply astounding. Lucas Hedges has one of the best performances in this movie. As he perfectly portrays Jared's shy but explosive personality when in the most climactic, truly heartbreaking and most emotional moments. But Hedges' acting is rivaled by Nicole Kidman and Joel Edgerton. Nicole Kidman playing the mother of Jared, shows absolute sympathy and love while also portraying how defensiveness she can be for her child. Joel Edgerton perfectly acts as the massive threat in the camp, starting out soft to Jared as he enters but then explodes into a nothing but hateful character. Victor is one of the most emotionally complex characters in the film. In the opposite sense, Russel Crowe's character is barely in the film but does not stand out in his few scenes. I understand the reason of why his character is not in the film for his lack of care for what his son is going through because of his sexuality. It is fair to state that in a scene where Jared confronts his father he shows amazing emotion that I wish was put throughout the film more than it was.
Another thing that stands out in this movie is the cinematography and music. The music written by Danny Bensi and Saunder Jurriaans. The music at times can be repetitive but features a very unique sound relating to the movie while being slow and quiet with an exception for the song "Revelation" sung by Troye Sivan. "Revelation" is the repetitive part of the soundtrack which plays at some of the most important times in the movie. Lastly, the cinematography is absolutely eye catching. The whole movie is filmed in a dark filter that cancels out a lot of bright colors. This works perfectly for the film because it astoundingly matches the tone of Jared's survival.
Aside from the movie, this story helps show the truly sad and mortifying certainty of the horrifying practices of conversion therapy camps. Like I said before, thirty states still hold open conversion camps and I hope that this number soon drops to zero. "Boy Erased" is an astoudning film with great story, characters, music, cinemeatography, and acting. On the opposite end of one of the characters not being strongly portrayed, I believe that this is an amazing film