Boys Track Competes At Conference
Boys track competed at conference on May 2, 2019. Jake Dieleman '19 won the discus with a throw of 159 feet 1 inch. The varsity sprint medley relay team placed third overall with a time of 1:35.39. Anthony Coleman '19 started the race, Nicolas Garcia '21 ran second, Zach Abbey '20 ran third, and Matthew Kliegl '20 anchored the relay. Joe Schaefer '19 won the 3200 meter run with a time of 9:41.63. The varsity 4×800 meter relay team placed third with a time of 8:14.96. Michael Schmitz '19 ran first, then Luke Perman '19, then Sam Schmitz '20, and Carter Borwick '21 was the anchor. The distance medley relay placed third with a time of 3:40.10. Abbey led off, Kliegl ran second, Garcia ran third, and Nick Hawn '20 anchored the race. The 4×200 meter relay placed third with a time of 1:32.62. The order of the relay went Quincy Hale '20 first, Jackson Blair '20 second, Phavian Moorer '20 third, and Jordan Rusch '20 fourth. Karson Kleve '20 placed second in the 800 meter run with a time of 1:58.59. Sam Schmitz placed third in the 1600 meter run with a time of 4:31.15. The 4×100 relay placed third with a time of 44.32. Coleman ran first, Garcia ran second, Hale ran third, and Rusch anchored the relay. The 4×400 meter relay placed third with a time of 3:23.93. They were .01 seconds from second and .22 seconds from winning. Urbandale placed second and Ankeny Centennial won the race. Abbey started the race, Moorer ran second, Schaefer ran third, and Kliegl anchored the race.
The next race for boys varsity track is districts on Friday, May 10 at Johnston High School. The girls varsity are running at this meet as well.
About the Photographer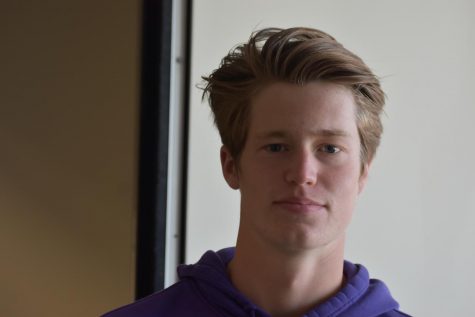 Joel Kellar, Sports Editor
Joel Kellar is a Senior and this is his fifth semester on the news staff and his second year as Sports Editor. He enjoys playing the french horn and does...