Brain Trust 2.0 Weekly Update: Week 1
As week one of the NFL season went underway this past weekend, the fantasy football teams made by millions of fans finally competed. The highly anticipated season started off really slow with the horrendous Thursday Night game between the Bears and the Packers. This game poorly effected every team that had a player in the game except for defense. On Saturday, the Raiders released Antonio Brown which lead to the first blockbuster trade of the season between Team DeRoos and Shake "N" Bake. Shake "N" Bake traded Evan Engram and Keenan Allen and received Antonio Brown, and Hunter Henry from Team DeRoos. After the trade, Brown got signed by the Patriots which makes this trade even bigger as Brown could be a big piece of the Patriots offense. Sunday went by with tons of surprising performances. The most notable ones that are on a team in the league were Lamar Jackson (Shake "N" Bake), Christian McCaffery (Team DeRoos), and Derrick Henry (Sack Wackers). On Monday we saw an amazing performance by Josh Jacobs (Sack Wackers), and Alvin Kamara (RIP NEWCOMB). 4 of the top 5 scorers in week 1 were not on a team. It is expected that through the next few days there will be many roster changes.
Sack Wackers vs Team DeRoos/RIP RIP NEWCOMB
Sack Wackers started the week off with a poor showing from Davante Adams as he scored about 9 points less than projected. Nick Chubb, Travis Kelce, and George Kittle all under performed for Sack Wackers. Luckily for him every other player greatly over performed to give Sack Backers a solid 152 points. The top performer was DeAndre Hopkins with 31.1. Derrick Henry and Amari Cooper both scored over 20 points on his bench. Sack Wackers had only two players score in single digits this week, which shows the amazing depth he has on his team.
Team DeRoos' scoring started on Sunday. His top performer was Christian McCaffery with an outstanding 42.9 and boy did he let everyone know about it. As the person who talks the most trash in the league he changed his name to RIP RIP NEWCOMB since RIP NEWCOMB was getting blown out. Little did he know that he would have a lead leading NINE players score less than 10 points. He made the poor mistake of sitting Josh Gordon who scored more points than one of his wide receivers and his FLEX. It would not be a reach to say that RIP RIP NEWCOMB will be making lot of changes on the waiver wire this week.
Sack Wackers won this week one matchup 152-146.3.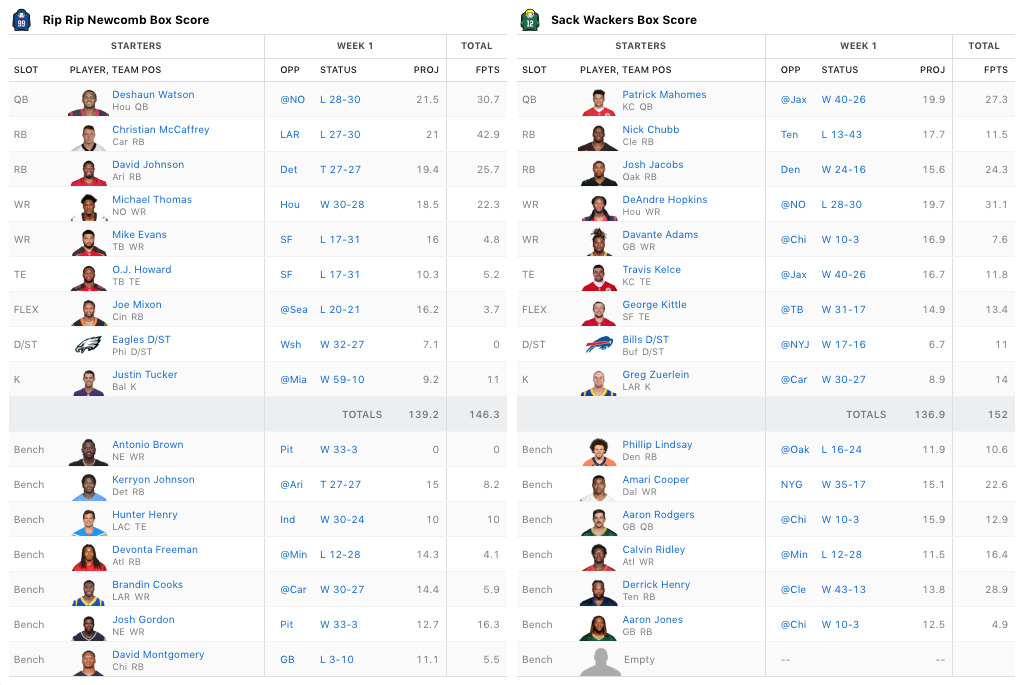 RIP NEWCOMB vs Shake "N" Bake
RIP NEWCOMB had the least points in the league, but showed great potential with only 4 players scoring less than 10 points. RIP NEWCOMB had almost half of his starting lineup underperform, but still have a decent showing. He really suffered this week due to Tyreek Hill getting injured in the first half of the game, leaving him 13 points short from his projected. He also left Dalvin Cook, who scored 26, on his bench. His top performer was Alvin Kamara with 23.9. It was too little and too late though for RIP NEWCOMB as he ended week one with a mere 120.2 points. This team has potential though and could be a tough team to beat if they can produce what is expected of them.
Shake "N" Bake scored the most points this week as he put up 161.3 points. There were 3 players on the starting lineup with over 20 points including Lamar Jackson with 33. On his bench there were 4 more players with over 20 points. Aside from the many players who put up 20+ points the rest of the team was pretty average with just one other starter exceeding their projected amount. Even with the most points scored in the league TY Hilton ( 28.7 points), Chris Carson (24.1), and Keenan Allen (26.3) all were on his bench. This was a solid start to the year and shows the great depth that may help this team have a successful year.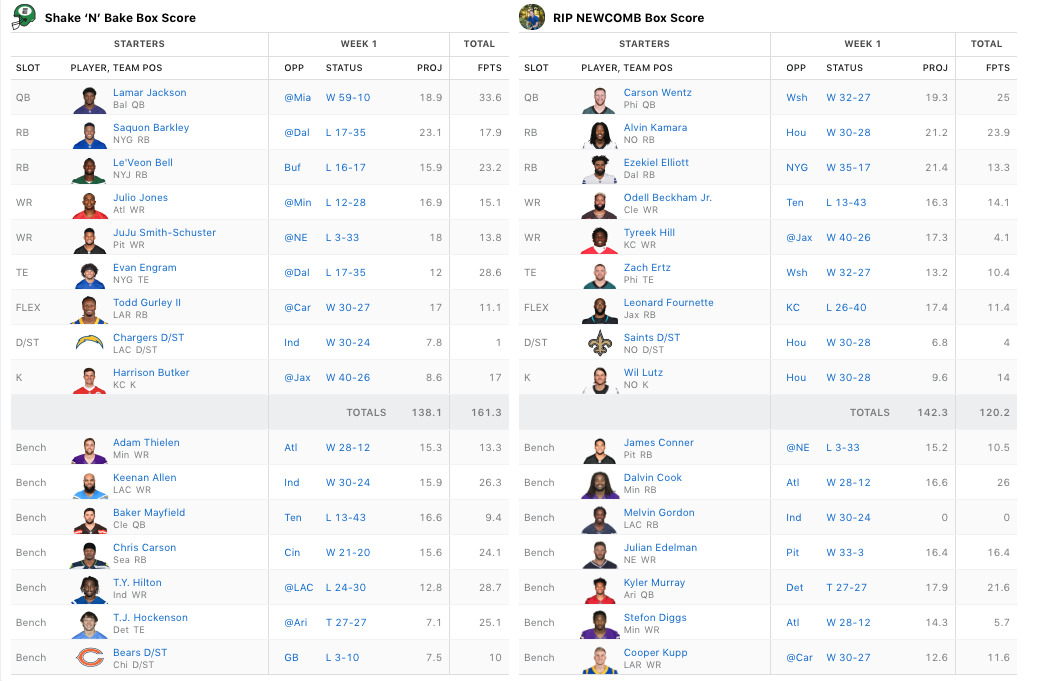 Top Players in Free Agency
Matt Ryan QB: Matt Ryan is the top player in free agency accordding to ESPN, but he may not be picked up at all this year as right now each owner is committed to their quarterback… for now.
Robert Woods WR: Robert Woods has a tough next game against the Saints and even after may not be picked up due to outstanding performances form Sammy Watkins and Desean Jackson.
Austin Ekeler: Austin Ekeler is the best running back on the market and will most likely be picked up this week. Ekeler had a great week last week and looks to have claimed the starting job. He plays the Detroit Lions next week and has a good chance to exceed his projected totals.
Week Two Preview
For week two, RIP RIP NEWCOMB (Team DeRoos) will be playing Shake "N" Bake while Sack Wackers will be playing RIP NEWCOMB.