Charlie, Cameron, Evan, and Joel Drafted the Best NBA Teams of All Time
Four staff writers dueled it out to draft the greatest basketball team of all time in a 40 pick snake draft.
May 30, 2019
On a normal day in Newspaper, three other staff writers and I thought it would be a fun idea to draft all-time NBA teams. This came about when Joel Kellar joked that Damian Lillard was a top five point guard of all time. We rolled dice for draft order and spent about 30-40 minutes on it and chose based on gut. That being said, we are each confident that we drafted the best team by a mile. Different factors went into each person's draft strategy, such as on court prowess, team chemistry, how they would fare against the other lineups, and sometimes picks were chosen because of recency bias. There are less older players than what would he expected, but in a split decision, players we have seen got drafted more than players we have not. Each drafter dove into why they made their picks below.
     — Charlie Pattinson
1. Joel: Michael Jordan
Any sane person knows that Michael Jordan is the best player to play the game, no questions asked. He won 6 NBA titles and won MVP five times his career which beat LeBron's four. He even left basketball during his prime for a couple of years to play baseball. If he kept playing he would have won league MVP at least one more time. With the number one pick I undoubtedly have to pick the real G.O.A.T. Michael Jordan.
2. Cameron: LeBron James
LeBron is the G.O.A.T., and better than MJ ever was. During his career from 2009-2019 (10 years) he was the greatest player in the NBA. Whilst Jordan does not have that decade-long accolade, with only being the best in 1990-1993 and 1995-1998 (8 years). Some LeBron critics might say that he at least needs one All-Star and a good player to help him win a title. Lebron plays in the age of super teams, so it is not fair to blame him when you should blame the circumstances. So what he had Chris Bosh and Dwyane Wade to help him win his first title? His competition was the Spurs with Tony Parker, Kawhi Leonard, Tim Duncan and Manu Ginobili and arguably the best coach ever in Gregg Popovich. Or what about the time he had to face the young but good Thunder with three future MVPS in Russell Westbrook, James Harden and Kevin Durant? He faced the 73-9 Warriors and beat that with only Kyrie. Not to mention, the Warriors had the Splash Brothers and a defensive genius in Draymond. Who did MJ play that was a superteam? The closest I can think was Hakeem Olajuwon and Clyde Drexler. But still, MJ had Scottie Pippen who in the 1993-1994 season carried the Bulls to the Eastern Conference Semis without MJ. *Whispers* Jordan did not win anything without Pippen.
3. Evan: Kareem Abdul-Jabbar
Kareem Abdul Jabbar is the NBA's all time leading scorer, has won 6 NBA championships, won 6 MVP awards, was a 2 time scoring champion, 19 time All-Star, 2 time NBA Finals MVP, 15 time All-NBA selection and an 11 time All-Defensive selection. He is simply the third best player to ever play the game. He was 7' 1" and is the best two way player to ever play the game. He could score and play defense like no other player before him and his durability was legendary. He is the perfect anchor for any team and that is why he is my first round pick.
4. Charlie: Shaq
When I drafted my players, they had to fall into one of these categories, if not all: domination, spreading the floor, or contributors to a good team chemistry. Shaq falls into the domination part of my formula. With Lebron and MJ off the board, I was kind of at a loss for who to draft. I decided on Shaq with a strategy to surround him by shooters so he can create a one on one matchup which he can always win in the post. Shaq is one of the most fun personalities to come through the NBA, and I am content with my pick.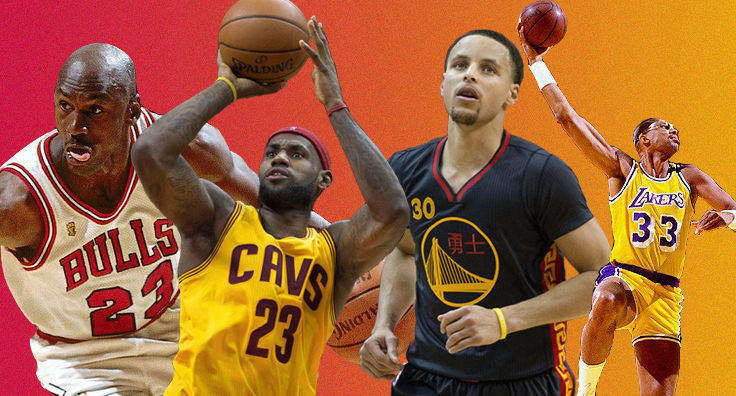 5. Charlie: Steph Curry
With my second pick, I went with Steph Curry. Currently I have Curry fatigue in real life, but he was the right pick for me here. He is the greatest and most prolific shooter in NBA history. He can spread the floor with the threat of his shooting and has a solid handle. He also is one of the few humble stars in NBA history, so team chemistry should not be a problem there. Steph can be the man, but also has the ability to run around off-ball. At this point, my team was Shaq and Curry, which I think would work very well. If you threw the two into a 2v2 matchup, Curry's shooting would such a great threat that Shaq would have a one on one matchup in the post which leads to easy domination.
6. Evan: Kobe Bryant
I wanted my starting lineup to be a team of winners, and Kobe Bryant is one of the best winners of all time. He has 5 NBA championships including two NBA finals MVPs and two Olympic gold medals. He made 17 straight All-Star games and was a model of consistency in his career. He is one of the best scorers to ever play the game as he is third on the NBA's all time scoring list and scored 81 points in one game, which is the second most ever in a game. The most surprising thing about Kobe is that he was a 12 time All-Defensive selection and for a man who is known for his scoring, Kobe can play some great defense too.
7. Cameron: Tim Duncan
The Big Fundamental, Tim Duncan, helped take Gregg Popovich's Spurs to the NBA finals consistently and helped make them dynasty that they are today. One of the ideas that I am looking for in my team is unselfishness. Duncan follows this trend with his high amounts of blocks, rebounds, and his overall defensive accolades, as he was named 15 times to the All-Defensive team. With all of his defensive capabilities and his unselfish way of play he would be perfect for my team, which is based around team ball and strong defense, two of the biggest fundamentals of the Game.
8. Joel: Magic Johnson
Magic Johnson is one of the best point guards to ever play the game. He is a big point guard standing at 6'9" which makes it difficult for other guards to guard him. Magic can create tons of mismatches, as he is 7 inches taller than the average point guard.
9. Joel: Bill Russell
With two guards on my team already I needed a big guy who can do pretty much everything. Bill Russell is that guy. Russell is a top three center of all time and matched with the playmaking abilities of Magic and Jordan, he would be lethal.
10. Cameron: Hakeem Olajuwon
A man who played in the age of Jordan, he was the second most dominant player in that era–a 2 time NBA champ, a 2 time Defensive Player of The Year, and MVP. His defensive accolades and his paint crashing makes him great for my team of strong defense, and he has the ability to attack the paint or pass it through. Hakeem had a dominant game and was able to own control of other centers in the era of dominant paint players. But, Hakeem was robbed of multiple championships due to Pippen and Jordan.
11. Evan: Allen Iverson
So Allen Iverson is not quite the winner that Kareem and Kobe were, but every team needs a great floor general and The Answer is exactly that, The Answer to this team's floor general problems. AI has an MVP, is a four time scoring champion, had 11 All-Star selections and 7 All-NBA selections. The Answer knows how to carry a team, as proven by when he carried the 76ers to the NBA Finals even when he was injured and is the point guard this team needs.
12. Charlie: Kevin Durant
After Curry, I drafted another Golden State Warrior. In my opinion, Kevin Durant is the greatest pure scorer of all time. He can get a bucket anywhere on the court. He is smooth with the ball, which is rare for a 7 footer. He is essentially a basketball assassin. Yes, I too get annoyed by his antics and how he left OKC, blah, blah, blah. But, that should not take away from what he can do on the court. Offense aside, KD can also serve as a top notch rim defender. Most of the time he has the ability to take over and be "the guy" for his team, but his basketball IQ could also help him be the ultimate role player in a scenario where the team is made of all time greats.
13. Charlie: Larry Bird
Larry Legend is not from my era, but from all sorts of videos and information I have gathered, he seems like a beast. I will not bore you to death with his resume, but I know he was a winner, could shoot the heck out of the ball, and has three MVPs to his name. He fits perfectly with Curry, Durant, and Shaq.
14. Evan: Scottie Pippen
Scottie Pippen is one of the most forgettable stars to ever play the game, as he was in the shadow of the greatest player of all time in Michael Jordan. People seem to forget that he is a still a 6 time NBA champion and Jordan never made it past the first round without Pippen. Pippen is a proven winner and has 7 All-Star selections, 3 first team All-NBA selections and 8 first team All-Defensive selections. He is another great two way player and is a fantastic glue guy for the team.
15. Cameron: Reggie Miller
When I drafted Reggie everyone else laughed at me, but Reggie Miller is not only a great shooter, he is a clutch shooter. He is so clutch that he once scored 8 points in 9 seconds, not in garbage time against some third string bench players, but in the EASTERN CONFERENCE PLAYOFFS AGAINST THE KNICKS WITH PATRICK EWING and they won the game. Miller did not just fluke out some good shooting. He is apart of a very prestigious and exclusive group, the 40-50-90 Club (40%+ from three, 50%+ from the field, and 90%+ from the free throw line) in his 1993-1994 season. Only 8 other players have achieved this. Legends such as Larry Bird, Dirk Nowitzki, Stephen Curry, and Steve Nash.
16. Joel: Karl Malone
Karl Malone fills another need for the team, and that is a scoring forward. He is currently ranked second of all time in scoring, so he will provide a huge offensive spark at any time. He very well could have been the top scorer of all time had he not gotten hurt at the end of his career. While he cannot shoot the three that well, his field goal percentage for his career is 51.6%. This is partly due to his "deadly" mid range jumper. He is a big guy and can dominate in the low post too.
17. Joel: Dr. J
To finish out my starting lineup I picked Dr. J. He is an MVP and made it to 11 All-Star games. Truly a spectacular all around player that brings some solid defense to this team.
18. Cameron: Jason Kidd
JKidd, a player known for his high basketball IQ, would lead my team of ULTRA-stars with his on court vision and his creative passing. He would help my big men in the paint and help my guards crash the paint or shoot from the outside. His lack of wanting to score points makes him great for an All-Star studded team because he enables others to be good. With his unselfish and intelligent offense, and his gritty and grindy defense he would perfectly round off my team. Also you might say that Steve Nash was better, but Steve Nash could not play defense and Jason Kidd was a contender with the New Jersey Nets. The same Nets who traded away a second rounder, (that pick ended up being Kyle Korver), FOR A NEW PHOTOCOPIER. Not to mention, he took them to the finals twice.
19. Evan: Dirk Nowitzki
The final member of my starting lineup is one of my favorite players of all time. He has one of the smoothest shots I have ever seen and can shoot the ball like no other big man. His fadeaway jump-shot is one of the most legendary shots from any player. He has 14 All-Star selections, 4 first team All-NBA selections and an MVP award. He also lead his team to an improbable NBA championship, beating the superteam of LeBron James, Dwyane Wade and Chris Bosh against all odds and won finals MVP in that series. Dirk has proven he can lead a team and that he can win when it matters most.

20. Charlie: James Harden
To fill out my starting lineup, I picked James Harden, who in my opinion is the third best shooting guard of all time behind MJ and Kobe. He consistently plays at a high level and has been a top finisher in MVP voting for the past four or five years. He has a killer stepback, and also a high playmaking ability. I trust him to take the ball up the court and keep the defense honest. My whole starting lineup can shoot lights out and will spread the floor so Shaq can dominate down low.
21. Charlie: Giannis Antetokounmpo
To start my bench off, I picked Giannis who might be the most unique and dominant player since Shaq. He is arguably the greatest athlete to ever come into the NBA, and only has to take a single step to get from half court to the basket. This past season was his coming out party, and I expect nothing but greatness and championships from him in the future. With my bench, I went with best player available each time. Maybe in 10 years Giannis is would be a top three pick in this draft, so I believe this was a great value pick.
22. Evan: Steve Nash
Steve Nash is one of the best shooters and passers to ever play the game. He not only makes everyone on the team around him great by passing, he also does it by being able to draw defenders because he is such a great shooter. He has two MVP awards, has 8 All-Star game selections, 3 first team All-NBA selections and lead the NBA assists 5 times. His 90.42% free throw percentage is second all time and is a great leader.
23. Cameron: Charles Barkley
The Round Mound of Rebound Charles Barkley my backup Power Forward is one of the most potent paint players in the game. With his ability to posterize anybody in the paint in a second he is UNSTOPPABLEEEEEEEEE! He is also a better NBA analyst than Shaq is and will ever be.
24. Joel: Elgin Baylor
Baylor is a great shooter, rebounder, and passer. What else could you ask for at small forward? Baylor averaged 27.4 ppg throughout his career.
25. Joel: Tracy McGrady
Tracy McGrady: put him in for 35 seconds at the end of the game and he will score 13 points. McGrady is a great shooter which I desperately need on my team.
26. Cameron: John Stockton
The man who has the most assists recorded in NBA history, John Stockton is a dangerous passer. Even though he had problems scoring, he did play with Karl Malone a prolific ball hog.
27. Evan: Dwyane Wade
Dwyane Wade is one of the nicest guys in the league and is a fantastic teammate which is one of the reasons I drafted him. He is a winner too, evidenced by his 3 NBA championships. He has 13 All-Star selections, 2 first-team All-NBA selections, 3 second team All-Defensive selections and was the 2009 scoring champion. He is a leader, a great scorer, and knows how to win.
28. Charlie: Wilt Chamberlain
The most prolific scorer of all time. Scored 100 in a game. Thank you, next.
29. Charlie: Anthony Davis
Despite Davis doing an annoying trade request and wearing a "That's all folks" shirt to his last game of the season, he was considered to be the number one player in the world just one short year ago. He is a beastly big man who can control the game on both ends. He is top tier rim protector and is incredible on offense for a big man. In a few months we will know if he sticks around to play with Zion Williamson, or if he can craft his legacy in New York, LA, or elsewhere.
30. Evan: Vince Carter
VINSANITY! I drafted this man for one thing: his flair and durability. He is a consistent player and has 8 All-Star game selections and 2 All-NBA selections. He had the greatest Dunk Contest performance of all time, and how can you not love that.
31. Cameron: Kevin Garnett
Even though KG is a culture killer with his trash talk, (like on one occasion when he made Glen Davis cry), he still is a MVP, Defensive Player of the Year, and a NBA champion beating Kobe Bryant's Lakers who had four All-Stars. Garnett has the unique ability of being a mobile big man which would allow my team to capitalize on a fast break oriented offense.
32. Joel: Zion Williamson
Yes, I picked Zion in an All Time NBA draft. Crazy right? Nah not really, this kid is unbelievable. At the end of his career he could very well be known as the number one player in the history of the NBA. He has unlimited potential and will be a force to be reckoned with for years to come.
33. Joel: Damian "Dame Dolla" "Logo" Lillard
Damian Lillard is one of the most clutch players to play the game. There have been six buzzer beaters to win a series in the playoffs and he has two of them. Guess who the only other player to have more than one of these? Michael Jordan, the G.O.A.T. himself. Everyone was hating on me with this pick, but Lillard is truly cold blooded. He can literally hit a three from anywhere on the court and has ice in his veins. He went up against Paul George, one of the better defenders in the NBA right now, and nailed a stepback 37 foot three at the buzzer with PG in his face. Name two other guys ever to be able to hit that shot.
34. Cameron: Paul Pierce
Even though Paul Pierce has said always contentious things on ESPN, that does not take away from his high scoring offense and his relatively good facilitation of others. He scored 22.5 points in his prime and averaged 6 assists per game. Pierce was pretty good but eh, I don't know, after letting the pick settle, I will take an L on this one.
35. Evan: Patrick Ewing
So Ewing does not exactly fit my winners mentality approach, as he never won an NBA championship and the Knicks were never super successful with him. What he does have going for him is purely dominant statistics, as he averaged 21 points, 9.8 rebounds and 2.4 blocks per game throughout his career. He has 11 All-Star selections, 7 All-NBA selections, including one first team selection. He was also a solid defender and he has 3 second team All-Defensive team selections.
36. Charlie: Jerry West
West was way before my time, but has a stacked resume. He is a top tier executive nowadays, and is the logo for god's sake.
37. Charlie: Oscar Robertson
The original triple double king, Oscar Robertson was an absolute steal at pick 36. Again, I only know what I have seen and heard about him because I did not get to live through his career, but my final pick was an easy one. Robertson caps off the best draft by far.
38. Evan: Chris Bosh
For my last pick I picked the last member of the Heat's big three. His career was sadly cut short by blood clots, but he was an absolute monster when he was on the court. Bosh was a two time NBA champion, had 11 All-Star game selections, and one second team All-NBA selection. He averaged 19.2 points and 8.5 rebounds per game in a career that could have lasted much longer if it was not cut short by injury.
39. Cameron: Ray Allen
I won the draft. I got the most clutch player in NBA history, with his three pointer to take it to game 7 in the 2013 Finals.  Even the G.O.A.T. (Lebron James) could not make that shot. One of the greatest three point shooters ever, Ray has got everything I need, Clutchness, Shooting Ability, and unselfishness (seriously, he played fourth fiddle to Lebron, Dwyane, and Bosh). Also, he played Jesus Shuttlesworth in Spike Lee's (greatest director ever) He Got Game.
40. Joel: Moses Malone
I am gonna be honest with the last pick of the draft I just looked up the top 15 centers of all time and saw Moses Malone as the best available. He fills in the backup center spot and he has great talent, averaging a double-double his entire career. I feel that I drafted the best team out of everyone else and that if these teams were to play in any kind of tournament mine would win for sure. You could make a case for four out of five players in my starting line up to be a top five player of all time and I do not think any other team has that.

Loading ...