Conversion Therapy
Unbeknownst to many, conversion therapy is legal around the country, including within Iowa.
In 2009, Iowa became the third state to legalize same-sex marriage. This was a monumental step for equality. In ages past, Iowa has been one of the forerunners of advocating for equal rights in various scenes.
Currently, 18 states are the new front-runners in LGBTQ+ rights. These states have banned conversion therapy for minors: New Jersey, California, Oregon, Illinois, Vermont, New Mexico, Connecticut, Rhode Island, Nevada, Washington, Hawaii, Delaware, Maryland, New Hampshire, New York, and Massachusetts. Notice how Iowa is not one of those states.
This is a surprising fact for some people. "To be honest, when I read the news of other states deciding this was not the thing to do, I guess I had kind of assumed that everybody had already gotten to that point," English teacher and Gay Straight Alliance (GSA) adviser, Ed Walker said.
The public opinion seems to be that since same-sex marriage is now legalized in the U.S. the discrimination and stigma against the LGBTQ+ community is over. This is far from the truth. The community is still being discriminated against by health providers, adoption agencies, many religious organizations, and those around them. Iowa Safe Schools is an organization built to help promote safe, inclusive schools for LGBTQ+ and allied students. One of their mottos is "more than marriage." This is meant to encompass this idea that the struggle isn't over for fighting for LGBTQ+ rights.
Conversion therapy is a harmful and abusive practice that has long-standing effects on individuals. Multiple health organizations have criticized the practice, recommending against the various forms of conversion therapy. "It's difficult for me to fathom the thinking of people who would believe that one's sexual orientation or gender identity can be 'corrected,'" Walker said. "That said, I realize there are people who believe that, but if you ask my personal opinion, it's barbaric."
Because of these ill effects of conversion therapy, some have tried to create support systems for LGBTQ+ students. Lisa Boge is one of the school counsellors and an advisor for GSA. "I always try to advocate for the student and will do and support however they need," Boge said. "So we're trying on our end, to … just help students feel safe and accepted and true to themselves."
It is a job for more than one person however. "I think that it is definitely a big community effort," Boge said. "You know, the things that we've been trying to do is to have student panels and then educate the teachers and hear from students from the LGBTQ community." This helps bring awareness of issues to the public as well as de-stigmatizing the conversation. The conversation allows solutions to be found and implemented. 
During the latest legislature session, a bill was proposed to ban conversion therapy for minors. Even though it was proposed, it did not move any further, so the bill is considered dead. This does not mean that it will not be passed eventually. It can be re-proposed or new bill with similar language could be proposed. In general, it takes five to seven years to get legislation passed.
Iowa Safe Schools is trying to get the bill passed during the next legislature session, since they were not successful last year. "We hired a Public Policy Manager, his entire job, he'll be a staff member, will be addressing public policy issues around the queer youth experience," Executive Director of Iowa Safe Schools, Nate Monson said."We needed a staff person that was dedicated to that, just simply because the relationship building that's required to get something passed is monumental."
It is not just policy managers that help get bills passed. Any state citizen can do their part as well. Currently, Iowa legislature is not in session, so the legislators are living their daily lives. Anyone can get in contact with them through their emails found on the Iowa Legislators website or meet them in person at their events. "Go there and talk to them and introduce yourself," Monson said. "You would be amazed at how powerful students are in the debate." 
While many of the solutions are decisions made by people in authority, there is plenty the average citizen can do to help. "I would hope that people that feel strongly about this issue get the email address of your state senator representatives," Walker said. "Get on the phone, calls them. I really think that that kind of grassroots response matters. I would urge people to get engaged and make your feelings known. … when the vote comes up, if your local representative doesn't vote the way that reflects your values, definitely make sure that they know that."
The responsibility lies on the citizens to make a change. "Honestly, the only way we're going to be able to ban conversion therapy is when students speak out," Monson said. "So please, please speak out."
About the Writer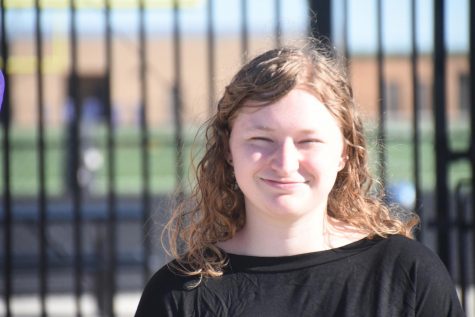 Liz Jones, Content Manager
Liz is a senior just starting her third semester of newspaper. She joined newspaper on a whim, but ended up having fun. Liz is already feeling the struggles...