Cross country meet switches to Camp Dodge
The Johnston Invitational that was held Sept. 11 was moved to Camp Dodge due to the Walnut Ridge course being too wet. The coaches found out Walnut Ridge would be unavailable only six days before the meet was scheduled, which caused for some quick problem solving.
Up until the 9/11 events in 2001, the Johnston Invitational was held at Camp Dodge. The cross country coaches, along with athletic director Gary Ross, decided it would work to return the meet there.
Head coach of the boys' team, Matt Jaschen, said laying out a course on the new terrain was a challenge. "Since it's so hilly, you have to hit the hills at the right contour, otherwise runners are running on side hills," Jaschen said. "And you've got to find places where the footing is decent, so people aren't busting ankles."
The hills made the replacement course difficult for many athletes, including senior Jordyn Kleve. "The new course made Walnut Ridge seem like a baby course," Kleve said. "Once you got up a hill, you would expect there to be a downhill, but it kept going straight up."
Another issue was getting all of the athletes, parents and buses to file in to Camp Dodge. Timothy Orr, Major General of the Iowa National Guard, believed this was the greatest challenge. "I believe we failed as an organization in the estimation of cars and students involved," Orr said. "I never saw in my 36 years of service, the long line of cars that were formed on Thursday afternoon trying to get on Camp Dodge."
The amount of cars was greatly increased when the buses didn't show up to take the Johnston runners. "All our guys had to carpool out there, all the girls did," Jaschen said. "That was something that could have been a lot better."
Although there were a few issues, the meet ultimately was a success. Junior Zach Smith says the team was skeptical at first, but they warmed up to the course once they scouted it out. "Before we were like 'is this really going to work?" Smith said. "But then when we got out there, we saw it, we ran on it, it was fine."
Orr was happy to see Camp Dodge utilized in a different way. "I was glad to have the Johnston meet back on Camp Dodge where it used to be held every year," Orr said. "It is nice that we can use Camp Dodge for more than just its intended purpose of training service members and law enforcement personnel."
About the Contributor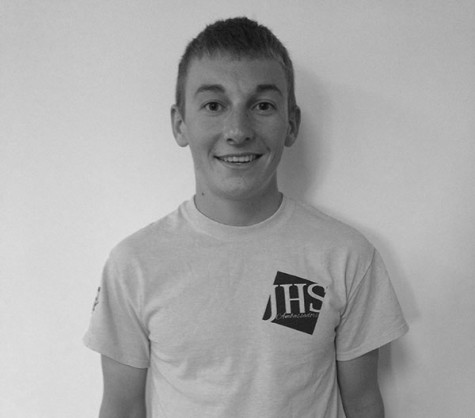 Max Culbert, Staff Writer
Max is a senior, and this is his first year in newspaper. He spends most of his time around water, swims all the time, and is a lifeguard at Hyperion....