Dogfight 2012 Original Cast Recording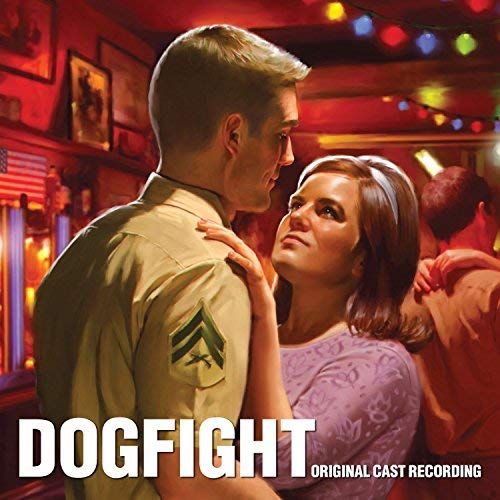 Opened July 16 2012, Dogfight the Musical is an off-broadway show based of off the film of the same name debut September 13 1991. The story follows a young Marine named Eddie Birdlace (played by Derek Klena) who is set spend his last night in San Francisco with his military friends before they are deployed to Vietnam in 1963. The men spend their last night at the Dogfight Bar, which is a bar that requires marines to bring unattractive dates who will be judged for their "ugliness". Personally I find this derogatory and rude but it was another time. Eddie encounters a shy, frumpy girl Rose (played by Lindsay Mendez) with which he brings to the bar but finds himself falling for her. I was never able to see the musical because it closed two months after its initial opening. But even after it closed it gained a cult following especially for the cast soundtrack.
When originally listened to this album I only listened to the song Dogfight With Lindsay Mendez's Character Rose and Annaleigh Ashford's Character Marcy. The story of the song is Marcy leading the song telling Rose about the true intent of Eddie and The Dogfight Bar. But recently I went back to the album and its very interesting and different soundtrack. I think that the album is currently one of the best albums out.
Dogfight's album is very interesting with each song being different in its own way. Specifically with this album, it tells the story through its songs while adding the characters dialogue in almost every song. While the usual sound is a slightly sped up tempo with a jazz sound going to a slow building character ballad called Pretty Funny sung by Lindsay Mendez's character Rose. This song is played shortly after the song Dogfight. Pretty Funny takes place after Rose(Mendez)
discovers Eddie's selfish intent with the Dogfight Bar. Rose slaps Eddie and tells all the men in the bar how horrible they are. The song starts as Rose returns home from the bar and let out her feelings in song form. This song is a slow build up and performed with such strong emotion by Mendez. I think that this song is one of the best songs in the entire soundtrack. Other amazing songs in this cast album are Prelude: Take Me Back (sung by Derek Klena and Lindsay Mendez), Come To A Party (sung by Klena and Mendez) and First Date/Last Night (sung by Klena and Mendez).
One of the negatives with this cast soundtrack is that a lot of the songs with Eddie and his marine friends are honestly lack-luster. To me it repeats its mood and they always sound the same. Fast hard rock, No Dialogue, Klena usually leading while his Marine friends sing in the background and serve as the back up singers of the band. To me it sounds like they could have a band called Eddie and the Marines.
Dogfight the Musical may suffer from some issues involving the songs that Eddie (Klena) sings with his Marine friends, and their songs also suffering from being very similar and sometimes sounding the same. But I think that songs like Prelude: Take Me Back (sung by Derek Klena and Lindsay Mendez), Come To A Party (sung by Klena and Mendez),First Date/Last Night (sung by Klena and Mendez),Pretty Funny (sung by Mendez),and Dogfight (sung by Ashford and Mendez) make the album worth while and amazing to listen to.