"Doki Doki Literature Club," the most mentally scarring game I've ever played
(Warning, this story may contain spoilers)
To all readers, heed this warning. While this game looks like an innocent dating simulator, you are likely to be mentally scarred by the game.
It's nearly impossible to explain how the game works or fully warn those who are interested without spoiling the plot and events that take place, but I will do my best as this is a potential trigger for those with depression, anxiety, or are easily disturbed.
At first glance, the game looks like a typical anime dating simulator, the kind that people generally play as a joke or for memes, but even from the start, something seems fishy.
On websites where the game is available, one of the top tags is "psychological horror,". It may seem like it's simply been tagged incorrectly, but in the game's description, written by Monika, one of the characters, it gives the warning that "This game is not suitable for children or are easily disturbed," which appears again whenever the game is opened.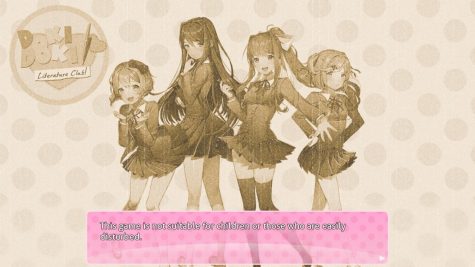 The game itself starts off pretty nice, with the player going to school with his neighbor Sayori, who drags him along to the Literature Club after school, where he meets Yuri, Natsuki, and Monika, who is the club's President.
Much like what happens in a typical dating simulator, the player tries to win the heart of either Sayori, Yuri, or Natsuki, through writing poems that will be presented each day at the club and will become closer to whoever's style your poems most reflect.
As the Club Festival approaches, things begin to get a bit eery, when suddenly the game has a drastic change.
Though it may not be easy to explain what happens without spoiling the game, a very basic list of possible triggers is:
Disturbing themes and imagery
Intense and realistic interpretations of mental health issues
Many possible triggers of depression, anxiety, and other mental health disorders
Loss of control within the game
That's about as much as I can give a warning without spoilers, for more specifics, visit the official warning page at ddlc.moe/warning.html.
While this game may be highly disturbing, with realistic depictions of the events, Doki Doki Literature Club is one of the best written and most intriguing games that I've ever played.
While triggering for some, and more intense then I was expecting, the story does an excellent job of making the characters have realistic emotions, and the aftermath effects of each event with those emotions was astounding.
This game is the best thing I've ever played, even if it is the most traumatizing, giving it 5 out of 5 stars.