Eating out in the open
Students' shouts echo across the room and the beeping of a microwave can be faintly heard in the distance, as Erin Gardner, '18 sits in the cafeteria with other special education students. Gardner brings a homemade lunch with two cookies every day, enjoying the noise and company that comes with the high school lunchroom.
With the transition to the new high school, special education students have joined their fellow students in the cafeteria, no longer eating alone in their classroom. This change has had immense benefits for the teens, giving them the opportunity to practice their manners, socialize with other students, clean up after themselves and use the microwave.
Special education teacher Sallie Hedgepeth has been working with special needs students for about 25 years, the last four of which were at Johnston. Hedgepeth helped make the switch to the cafeteria and worked out any problems that came their way. "We don't really have to clear anything since they're students," Hedgepeth said. "Our administration always says to me, 'Sallie, these are all general education kids first', so anything the gen-ed kids have access to, we have access to.
Although the move has gone well, the transition is not seamless. "We are there longer than most gen-ed students, so we need to get food a little earlier, there's some food prep that needs to be done since some of them are cutting up their own food, and there are some diet considerations," Hedgepeth said. The students were able to get adaptive silverware and other dishes through an occupational therapist at Heartland and had to experiment with seating to figure out what worked for each student.
The recent switch to the lunchroom has not gone unnoticed by other students. Precious Pate, '20 participates in Best Buddies and loves seeing the teens in her lunch. "I think it's great," Pate said. "They get to interact with everybody, and have part of the high school experience that everybody else has."
Hedgepeth plans on having her students eat in the cafeteria for the rest of the year, but seven of her eight students are graduating in June. "I don't know what kind of a classroom we'll have next year," Hedgepeth said. "As long as we still can eat in the cafeteria, we will, since it's good for them."
About the Contributor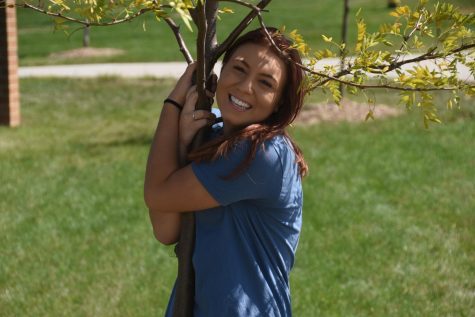 Brooklyn Dilley, Print Editor
Brooklyn Dilley is a senior who actually functions best when she's drowning in a pile of responsibilities. She seems antisocial and awkward when you...