'Fishy' Business
A fellow student shares his journey starting a fish breeding business.
When buying a fish from a local pet store, one may be overwhelmed with the amount of beautiful choices. One might not realize that some of these fish were bred by a fellow student. For Justin Vis '22, breeding fish is now a big part of his life.
Vis has always had a love for science. "Just one of the things that I fell in love with was watching these YouTube science videos," Vis said. "And I always have since a very young age. I've participated in Science Olympiad and so I have always had this love for science, especially ecology and the study of life. I've always wanted to study life and it's one of the things that I might want to go into possibly when I leave the high school."
This love of science is what led Vis to partner with local fish store Adam's Aquatics. Vis' family used to have a fish tank in the basement around three to four years ago, however it sprung a leak, causing them to have to get rid of it. Eventually, they bought a new fish tank and added it to the basement again. Around the same time, Vis and his family began visiting Adam's Aquatics, a local fish store in Des Moines, because owner Justin Polson is a family friend to them.
Polson and the Vis family have known each other for a while. "His dad, Andy, was actually my youth pastor in high school," Polson said. "So that's kind of how I got involved with their family. After I bought the store, they just started coming in, they started a tank by themselves, and Justin kind of took off with it. That turned into breeding."
Breeding the fish comes with many challenges, including extensive research for Vis. "What I do is I set up a littler tank off of what the big [fish] are doing," Vis said. "I basically segregate the one species I want to breed. I have to do a ton of research on how they naturally breed in the environment. My goal is to replicate what happens in nature and make it happen in this little tiny tank. Sometimes it's hard, I've had luck because I'm breeding easier [fish] right now, but some of the [fish] require a lower pH level in the water because they breed after it rains or other stuff like that. So it's a lot of research and time that goes into figuring out how to do it and trying to replicate it as best as possible in our own home."
One aspect of his research that Vis takes into account is the genetics of the fish themselves. "A lot of [Polson's] fish are coming from the same place, so I may buy a few fish from him and then go to like PetCo and buy a few fish that look really healthy just so they have mixed genetics and are healthier, because I don't know how inbred the ones he's getting are and how inbred the ones PetCo is getting are," Vis said. "I'm essentially taking two different genetic lines and breeding them together to get a new strain of fish that is healthy and heartier than either one honestly."
Another challenge for much of the world nowadays is COVID-19. However for Vis, the virus opened up a window of opportunity rather than challenges. "It takes a lot of time to build things and get things put together," Vis said. "[Adam's Aquatics] stayed open and [Polson] has been super busy because people have been wanting to get pets. So this has really opened up a window of opportunity for him to grow his business, and with that, he also needs [fish] so I'm trying to provide that for him right now. It is a lengthy process, you have to breed them and let them grow for a couple months before you can turn around a resell them."
In addition to partnering with Adam's Aquatics, Vis plans to have a business of his own. "That would yield me more money in the long run," Vis said. "That's also riskier because I haven't established when I'm doing it, and not many people know when I'm doing it. It's very plan A, plan B at the same time. I'm trying to grow what I'm doing while helping him because he's a constant."
When starting a business, there are many responsibilities, one of them including marketing. Vis is in the process of figuring out how to market his business. "Starting a website is really expensive, but starting like an Instagram page is free," Vis said. "A lot of people are using social media platforms nowadays to market what they're doing, how they're doing it, and just really building a community base. That's really important to me, it's important that you have relationships with the people you're interacting with. My goal isn't as much to get big and make a lot of money as it is to grow and support people and they're passion for what I'm doing as well as supporting Justin and his passion for his store. What I'm trying to do is very community driven, it's a lot of interacting with other people and I like that."
Vis' biggest piece of advice for student entrepreneurs or future entrepreneurs is to find a passion. "My philosophy is that it's much more rewarding when you're working with something that you enjoy and that you find joy in," Vis said. "Even if you do get the money in the long run and you stick with it, you won't enjoy it [unless it is a passion]."
Vis also encourages student entrepreneurs and future entrepreneurs to find someone to partner with who shares that passion. "You want to find people that fit within your needs and what your viewpoint is on something," Vis said. "You want to have the same goal because if you have different goals, then you're not really going anywhere."
About the Writer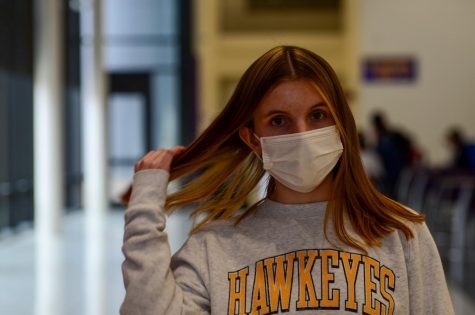 Kylie Emery, Online Editor
Kylie is a senior and this is her third year on staff. When she is not dancing, working out, sleeping, and spending time with friends, you will most likely...