"Free Fire" aims for bloody fun and hits the bullseye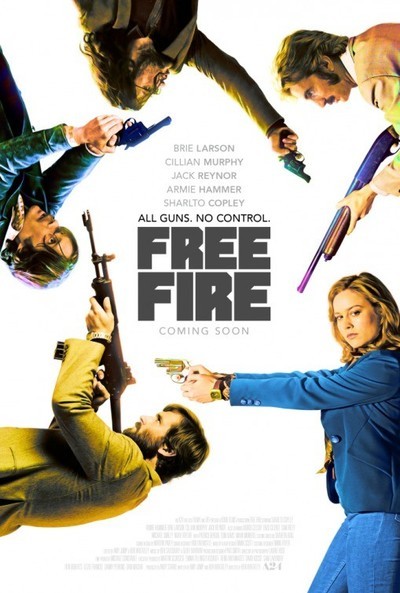 The best thing about director Ben Wheatley's "Free Fire", currently the best film I've seen in 2017, is that it isn't trying to be anything deep or profound. At a crisp 90 minutes, it is simply actors you recognize shooting guns at each other in one place the whole time. It's a plot that could easily be dumb or a slog with a different director or a different cast, but with the wonderful combination of Wheatley and his ensemble, "Free Fire" is a fun and profane free-for-all.
The context of the gunfight that takes up most of the movie is an arms deal gone wrong in 1970s Boston. Two Irish Republican Army members Chris (Cillian Murphy) and Frank (Michael Smiley) along with their lackeys Stevo (Sam Riley) and Bernie (Enzo Cilenti) are meeting at a warehouse to buy guns from South African gun seller Vernon (Sharlto Copley) along with Vernon's employees Martin (Babou Ceesay), Harry (Jack Reynor), and Gordon (Noah Taylor). Serving as intermediaries are Americans Justine (Brie Larson, the only member of the cast without a Y chromosome) and Ord (Armie Hammer), who know people on both sides, making them somewhat wild cards.
When tensions are already high, Stevo discovers that Harry is the guy who gave him a black eye the night before, and not long after things hit the fan and everyone has a gun, and everyone is crawling and shooting at each other.
Much of the excitement comes from the fact that the whole ensemble seems to be having a blast. Hammer, rocking a thick beard and turtleneck, has never been better, and I am glad to see a favorite actor of mine get a role that actually showcases his talent and lets him be funny rather than limit him to his exceedingly good looks. Larson is smart and charming as always, putting lots of life into Justine's facial expressions and dialogue and looking very lovely in 70s fashion, although I wish she had more to do as the only woman of the group. Irish up-and-comer Reynor impressed me in last year's "Sing Street" and continued to impress me here, and I hope he gets a breakout role soon. Murphy and Copley are very funny and entertaining as well. Every member of the cast gets their moment and everyone feels vital.
Wheatley makes very fun choices as director, somewhat emulating Martin Scorsese (who also produced this film) and Quentin Tarantino (the plot is very reminiscent of "Reservoir Dogs"), but putting his own twist on it. Although the period setting doesn't really serve any story purpose other than the fact that no one can use cell phones, Wheatley uses it for lively musical choices like CCR's "Run Through the Jungle" and two songs by John Denver, as well as bright costumes and other details of the 70s era.
The script by Wheatley's regular collaborator (and wife) Amy Jump is full of priceless zingers and engaging developments, such as a couple of snipers coming onto the scene as well as a bit of flirtation between Justine and Chris (Larson and Murphy have quite a bit of chemistry, and I hope I can see them together again in a more traditional romance).
One problem I had with the movie is that it is sometimes hard to tell where the characters are in relation to each other. It's hard to tell who is shooting at who and where they're running to. Also it seems a little unrealistic to me that you could take three or four bullets in your arms and legs and still be able to crawl around and aim and shoot a gun, as well as stay conscious. Also Hammer is 6'5, by far the tallest person in the cast, yet no one is able to really hit him, even though he's almost never crawling and always crouching or standing.
However, these complaints are ultimately small in the scheme of this immensely alive and nimble movie. From its cast to its production design to its humor, "Free Fire" is a delightful and blood-spattered showcase of great gunplay and awesome actors working in perfect tandem. Although not for the squeamish or those who are vehemently anti-gun, "Free Fire" hit the mark for me, and hopefully it will for you.
---
Final Verdict: 9.5 out of 10
Rated R for strong violence, pervasive language, sexual references and drug use.
Director: Ben Wheatley
Cast: Brie Larson, Armie Hammer, Cillian Murphy, Sharlto Copley, Jack Reynor, Sam Riley, Michael Smiley, Noah Taylor, Enzo Cilenti, Babou Ceesay.