Game, Set, Mitch
Tennis player Mitch Driscoll '24 has grown mentally and physically stronger and looks to improve every time he's on the court.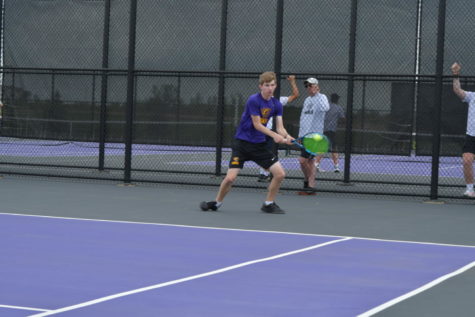 The afternoon sun shines down on the purple concrete of the tennis courts. The sound of rackets hitting tennis balls echoes behind the bleachers of the football field. The Johnston Boys Tennis team is holding their daily practice. Among the many athletes, junior Mitch Driscoll can be seen dribbling a tennis ball with his hand, preparing to serve to his opponent, the slight crouch and tight grip on his racket signals his inclination to Driscoll's oncoming serve.
Driscoll says he started playing tennis recreationally around 6th or 7th grade. He credits his parents for first getting him into the sport.
"My mom and my dad both played tennis. My mom played tennis in college so that's kind of how she got me to try it. And I thought it was fun and I was actually pretty good at it," Driscoll said.
However before Mitch was playing on the hard court he was spending his time on the hardwood, where his basketball team was coached by his current tennis coach Dennis Schuessler.
"I first met Mitch when he played 8th grade basketball for me. He has been on the tennis team with me for the last four years now," Schuessler said.
Driscoll joined the tennis team his freshman year. He climbed the ranks of the team quickly and is looking to improve his game further next year.
"I think I've gotten better each year. I mean freshman year I was first on [junior varsity], sophomore I was position six and now I'm position three, [I'll] probably be position two next year," Driscoll said.
Schuessler has also noticed Driscoll's improvement as a tennis player from his freshman year to his junior year.
"Mitch has grown as a tennis player in several ways. He has definitely gotten physically stronger over the last four years. This has enabled him to hit harder and play longer," Schuessler said.
Along with Driscoll becoming physically stronger, Schuessler notes that Driscoll has also become mentally tougher too.
"He is also stronger mentally, Mitch has developed an ability to respond to adversity and thrive in tight matches."
The importance of being able to move forward after a tough loss or not beat yourself up for mistakes is evident most during a game of singles tennis.
"Singles is interesting cause you're the only one out there, no one to blame but yourself, which is kind of why I like doubles more, it's easy to bounce off a teammate. But I think [singles] definitely builds toughness… but the difficult thing is when you start making mistakes. It's very easy to get mad at yourself cause there is no one else on the court to blame," Driscoll said.
While Driscoll is a strong singles player, his preferred game is doubles. Where communication and teamwork are integral to getting victories.
"Mitch is willing to grind out victories. He will play as long as it takes to win the match. He is also a strong doubles partner using good communication and tactics," Schuessler said.
Driscoll's 'grind out the win' mindset is what Schuessler says sets him apart from his peers on the team.
"Competitive spirit and hard work make Mitch a good tennis player. Mitch works at his sport and has a strong desire to win," Schuessler said.
It's this mindset that has contributed to Driscoll's success. It was clear early in his freshman year that triumph was on the horizon.
"[My] freshmen year when I played in JV we went to this tournament in Valley, and I had only played a couple tennis tournaments and I never won one before. It was a doubles tournament too so I really liked that. And me and my partner won the whole tournament for Johnston it was pretty exciting," Driscoll said.
Dedication to his craft, the drive to succeed and being a strong teammate are all factors in Driscoll's accomplishments. It's these factors that will make Driscoll an even better tennis player his senior year.
"It's fun being on a team as well as just like it's a fun sport to play and everybody kind of has a role, your match is worth the same amount of points as everybody else. So if you can hold up your match and help your team win it's a pretty good feeling," Driscoll said.