Gettin' The Band Back Together Original Broadway Cast Recording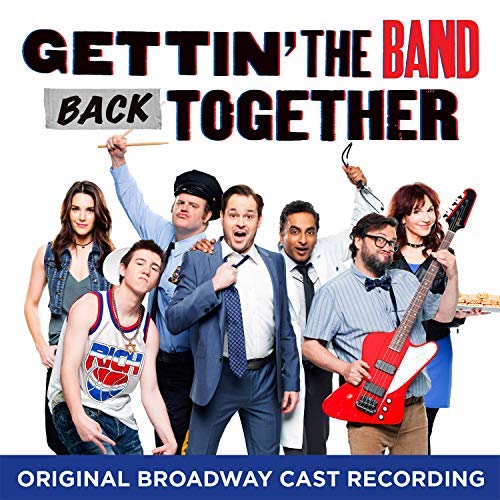 Gettin' the Band Back Together was a Broadway show that began its original run as Garage Band Back in 2013. It began its 2013 shows at the George Street Playhouse in New Brunswick, New Jersey. As it began to gain feedback and critiques from reviewers, Garage Band made its way to Broadway while also changing its name to Gettin' the Band Back Together. Starting as an Off Broadway show which refers to a show in a theatre of 99 to 499 seats while Broadway is in theater of more than 499 seats. As it began to gain praise off broadway with its 2014 cast, it ventured towards its official broadway run this year. The 2014 cast started its buzz by having an official World Premiere Cast Recording, but later having a 2018 Cast Recording released after its show closed on broadway in the week of September 16th 2018.
The 2018 cast had Mitchell Jarvis, Jay Klaitz, Manu Narayan and Garth Kravits being with the Cast since the 2013 production. The cast albums, match the amount of amazing quality between each other previous Gettin' the Band cast album and the other cast albums featured in the broadway genre.
With the album going mostly with rock tone, it has a signature sound that doesn't compare to many other musicals and gives a nice authenticity that many other shows don't have. Mitchell Jarvis who plays the main character Mitch leads most of the songs while the ensemble sings behind him. Songs like Jersey, the title song Gettin' the Band Back Together, and One of Those Guys are standout songs where Mitchell Jarvis amazingly leads the performers in the song. Songs like I Just Want Real sung by Kelli Barrett, and Second Chances sung by Ryan Duncan take the slower route by embracing humor in Duncan's slow comedy piece and love in Barrett's well performed uptempo character piece. These songs really help focusing on the side characters that compare to be as amazing as Mitchell Jarvis leading the show. A strength of this show is that it does really well at showcasing every character and their performer's ability in the show. Sadly, a weakness of this show is that some of the songs sound about the same but have different lyrics. Songs like Jersey, and One of Those Guys are guilty of having the same feel.
I think that Gettin' the Band Back Together while being a very interesting new musical had some similarities that made it less unique, but was still an all around fun cast soundtrack that had great performances from people other than the lead that I recommend you listen to.