Girls Basketball loses to West Des Moines Valley in the State Tournament 76-64
Hang on for a minute...we're trying to find some more stories you might like.
Up by seven points with 1:54 left in the state semifinal game against the West Des Moines Valley Tigers on Feb. 28, it looked likely that the girls basketball team was going to go on and play for a state championship, however in basketball no lead is secure until the clock hits zero and when the other team has Zoe Young '19 who is a top thirty recruit in the nation and going to play basketball at Maryland in college it is even less safe. 41 seconds later the game was tied up at 62-62 with 1:13 left to play. The game went to overtime tied at 62 when Young missed a game-winning jumper with two seconds left.
With overtime came a much-needed break for the girls and a huge sigh of relief from the fans in the student section. The overtime period did not go as expected for the girls as they had many costly turnovers and Valley shot lights out from the field going five of six which is a crazy 83 percent. The Tigers were able to pull away and win the game 76-64.
The aforementioned Young had 37 points and was the source of just about everything Valley did. Regan Nesheim '19 lead the girls in scoring with 26 points and was a force in the paint the whole game.
The game started out slowly with both teams struggling to score the ball early on, but Valley got out to an 11-8 lead until Anna Gossling '22 hit a layup and was fouled, she hit the ensuing free throw, tying the game up at 11 where it would stay until the end of the first quarter.
The second quarter was when the teams started to heat up from the field with the girls jumping out to a 25-19 lead with 3:25 to go in the half through strong play from Gossling and the teams leading scorer Maya McDermott '20. Valley went on a 12-2 run to end the half with nine of their 12 points being scored by Young and Shea Fuller '19 to give them a 31-27 halftime lead.
In the third quarter, Valley jumped out a 39-31 lead with 4:47 left in the quarter when Nesheim took over, she scored the girls first 10 points of the quarter and 14 of the team's 20 total points in the quarter. With the lead down to four points, Maddie Mock '20 hit a huge three-pointer to make the game 41-40. After a pair of Valley free throws, Nesheim had a huge basket and was fouled, she made the ensuing free throw tying the game up at 43 with 2:28 left in the quarter. Valley looked to be taking a three-point lead into the fourth quarter when McDermott hit a buzzer-beating three-pointer from NBA (National Basketball Association) range to tie the game up at 47.
The story of the fourth quarter was Young's foul trouble as she had four fouls going into the fourth quarter and did not start the quarter on the court. This allowed the girls to jump out to a 52-47 lead with 6:30 left in the game and forcing Valley to bring on Young to try and close the deficit. Young did just that scoring five points in 35 seconds to tie the game up at 52. Valley eventually took the lead on a Fuller three-pointer to make the game 55-54. The girls then went on an 8-0 run and took a 62-55 lead with 1:54 left. After multiple turnovers and missed shots by the girls and Valley making great use of their opportunities, the game was tied up at 62 headed into overtime. Valley dominated the overtime period outscoring the girls 14-2 and went on to win 76-64.
The girls finished their season 22-3 with the 22 wins being the most in school history. Nesheim made the final game of her career one of her best scoring 26 points and adding nine rebounds, two assists and a steal. Macy Thompson '19 also played the last game of her career, she had seven points, two assists and two rebounds.
Full Game Statistics:
Starters:
Maya McDermott '20: 12 points, five assists, three rebounds
Macy Thompson '19: seven points, two assists, two rebounds
Kendall Nead '20: two points, two rebounds
Maddie Mock '20: nine points, seven assists, 11 rebounds, two steals
Regan Nesheim '19: 26 points, two assists, nine rebounds, one steal
Bench:
Anna Gossling '22: eight points, one assist, one rebound
Senior Tribute:
Regan Nesheim '19 finished her 79 game career with 810 points, 453 rebounds, 116 assists, 138 steals and 86 blocks with averages of 10.3 PPG, 5.7 RPG, 1.5 APG, 1.7 SPG and 1.1 BPG. Nesheim was a fantastic rim scorer, rim defender and rebounder and was a strong physical presence in the paint during her career.
Macy Thompson '19 finished her 79 game career with 242 points, 235 rebounds, 107 assists, 77 steals and six blocks with averages of 3.1 PPG, 3.0 RPG, 1.4 APG, and .9 SPG. During her career, Thompson was great ball handler and facilitator of the offense and was also a great perimeter defender.
Both of these players played their hearts out for the team and were the second and third players in girls basketball to qualify for four straight state tournaments.

About the Contributor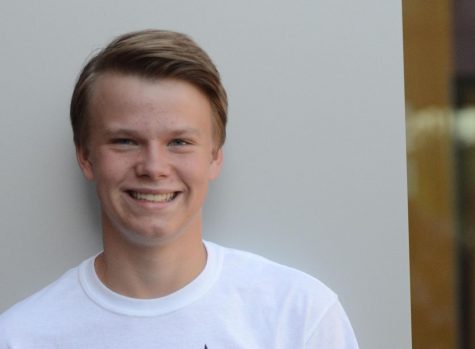 Evan Newcomb, Sports Editor
This is Evan Newcomb, he is a senior and he has been here for a little while (4 semesters, 5 by time he graduates). He has a passion for sports like no...