Hair The American Tribal Love-Rock Musical New Broadway Cast Recording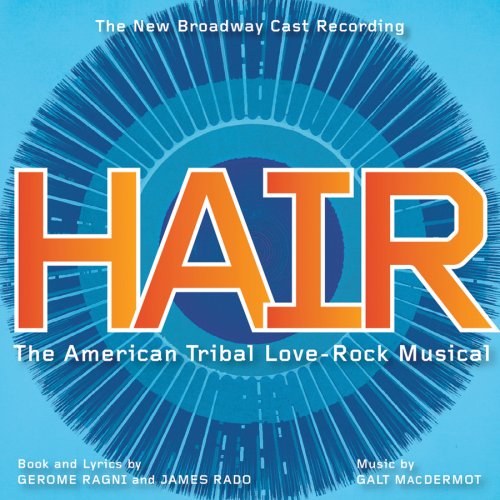 Beginning off-broadway in October of the year 1967, "Hair" is a rock musical that is a product of the hippie counterculture and sexual revolution in the late 1960s. Several of its songs became anthems of peace during the Anti-Vietnam War Peace Movemonet. This musical originally caused massive controversy for its strongly upheld opinions on our society. The musical broke impressive new grounds in the genre by defining the sub genre of rock musical. Hair originally began in its of broadway debut on October 17th, 1967, and a short lived run at the Cheetah nightclub from December 1967 to January 1968. Later that year it began its original broadway run in April 1968 and ran for 1,750 performances. After its well lived run, it was adapted into film in 1979. Many years later, the show opened a 2009 revival earning strong reviews and recieving the Tony Award and Drama Desk Award for Best Revival of a Musical. With that revival came a soundtrack and I believe that it is one of the most revolutionary and interesting soundtracks in the entire genre.
"Hair" focuses on the story of the tribe, a group of long haired hippie, political activists in the Age of Aquarius living in New York City fighting against conscription during the Vietnam War. Claude and his friends Berger and Shelia struggle to balance their lives, love, and the sexual revolution with their revolt against the war and the conflict that comes from their conservative families. Increasingly, most of the story focuses on whether Claude must resist the rising draft with his tribe or succumb to the ultimate choice of his parents and conservative america to serve in Vietnam by pushing his pacifist morals behind and risking his life.
The album begins with in my opinion one of the best opening songs in musical theater history. Aquarius really sets the tone of the musical because it begins with different sounds made by the orchestra slowly becoming more percussive and musical until Sasha Allen begins to slowly sing the lyrics "When the moon is in the seventh hour and Jupiter aligns with Mars". These lyrics begin to show how the tribe thinks and shows how the tribe acts with their beliefs. After these lyrics are sung the ensemble begins to join in as it sounds like a peaceful protest with Allen leading while belting lyrics.  The interesting thing about Hair is that it knows what it is and is unafraid to portray itself in a weird way.  What comes with a great intro is an equally strong or stronger closer. This is apparent with The Flesh Failures/Eyes Look Your Last/Let The Sunshine In sung by Gavin Creel, Sasha Allen and Caissie Levy. This finale shows the bitter sweet ending of the musical that all the characters face. It begins with Claude (Creel) singing by himself as he faces his fear and then the tribe joining him then focusing solely on the tribe as they are protesting. Sasha Allen and Caissie Levy are the leaders of the tribe as they protest the war. They repeat the word "Let the Sunshine In" because it helps show how they want to end the war and bring peace to their country. This song isn't just good but it serves as a song to portray the struggle that all of us face in America along with how he must let the light guide us through our hardships. This song has continued to be a massive success because of its lyrics relating so close to our life. Some songs that I think deserve honorable mentions are Hair (sung by Gavin Creel, Will Swenson and 'Hair' Tribe), Donna (sung by Will Swenson and 'Hair' Tribe), Shelia Franklin/ I Believe In Love (Sung by Caissie Levy and 'Hair' Tribe) and Walking In Space (Sung by Sasha Allen, Caissie Levy, Kacie Sheik, and 'Hair' Tribe)
In the end, with themes that still stay strong to our current life. "Hair" helps show the struggle we all face and its an all around great cast album you should listen to.