Higher Education at Smaller Universities
Harvard, MIT, Stanford, Princeton, and Yale. Nearly every student knows these universities to be some of the most elite schools in the United States, if not the world. The universities are defined by their exclusive status, extremely selective acceptance rates, and renowned campuses. In comparison, local schools in Iowa often seem smaller and less elite. Yet, in terms of being elite, colleges nearly as selective do exist within the state of Iowa itself.
Schools like Drake University, Briar Cliff University, with PR Specialist Carly Hanson, and Coe College are all located within Iowa and provide a number of high-level programs for their students. Grinnell College in particular, is on par with Ivy League schools in terms of selective acceptance rates (20.2%) and offered curriculum. Small colleges, while underrated, prove their relevance by offering a lot of Ivy-League opportunities to a smaller class size.
While a high-class education is provided at most Iowa universities, the factor that sets apart Iowa schools from the elite universities in the United States is school size. Aside from the big three schools in Iowa—Iowa State University (ISU), the University of Iowa, and the University of Northern Iowa (UNI)—, all Iowa schools have undergraduate enrollment sizes of less than 5,000 students. In fact, several of Iowa's private schools are smaller than JHS.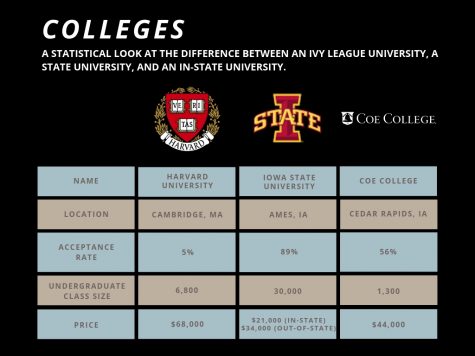 Of the 107 colleges and universities are in Iowa, the nearest college to Johnston is Purdue Global Des Moines Campus.
Oftentimes, it appears that a stigma exists surrounding small universities because of school size. Students might feel like attending a small college limits their opportunities for involvement or that their college experience isn't comparable to bigger school experiences. "That's absolutely not true. Small schools like Briar Cliff offer a myriad of opportunities in a community where professors are personally invested in your success and your fellow students are more than classmates – they're your friends, even if you've never had a class together," Hanson said.
Apart from the community aspect, the programs offered at smaller colleges range broadly. For Sophie Van Zee '19, who plans on attending Drake University with a double major in environmental science and biology, the science programs at Drake were appealing. Research positions and the opportunity to travel abroad to locations like Rwanda all exist at Drake. "The programs were really cool, and it was bigger than the smallest of small [colleges]," Van Zee said. "[Drake] provides a lot of opportunities because it's in Des Moines."
Smaller colleges offer a number of other advantages. Small class size often results in higher student participation. The professor-to-student ratio is smaller and more often than not, professors (rather than teacher's assistants) are teaching the class. Most importantly to students who attend, is the fact that students will have more opportunities to interact with administrators on campus. "Class size definitely played a factor. I really like smaller classes, and I feel like you can have a closer, easier relationship with professors, whereas at bigger colleges, it's definitely more difficult or impossible," Van Zee said.
For many students, college decisions feature several factors apart from size: location, admissions rates and types of degrees offered. Most prominently, cost plays the biggest role in colleges. Annual tuition for Iowa colleges range anywhere from $16,000 to $64,000. "If the smaller schools can provide scholarships and grants to help offset the cost, then students may, but not always, prefer a smaller school," counselor Sue Baker said.
"
Be aware of your major and what programs are available for it. Don't fall for a college without looking at everything first. Go where you think you'll thrive.
— Sophie Van Zee '19
Despite this information, the largest number of final transcripts of Johnston students are sent to DMACC, ISU, Iowa, or UNI. "About half of our students go to the big colleges," counselor Lisa Boge said. Many students report that since Johnston has a large high school, the shift to a larger college makes the most sense and is the most comfortable transition. However, a significant portion of students from Johnston also choose to attend local schools. 
While underrated and at times overlooked, small colleges prove their worth for many students looking for a community with a friendly and inclusive environment conducive to growth in learning.