In the Eyes of a JHS Cheerleader
The stadium lights and the raging crowd are just some of the thrills that I, as a cheerleader, get to experience at Friday night football games. As I stand below the crowd along the sidelines cheering on the hustling football players, the feel of the games has changed. With required masks wearing and social distancing, cheerleading has become difficult for cheerleaders everywhere.
The typical spring tryout had to be set during the end of summer break instead, because of the district's decision to hire a new head coach so late into the year. Tryouts were hard this year because everything had to be online, and everyone had to make videos of themselves doing the requested tryout cheers. There were about three videos with cheers that you had to learn plus the fight song if not already known. I personally didn't mind the tryout process this year because I already knew the hardest cheer, the fight song, so everything was a bit easier to learn. I did, however decided to learn the cheers last minute so I had to learn the cheers fast but it was not too bad.
For some cheerleaders, this process was more difficult. "It was definitely a lot harder to learn than I thought it was gonna be," cheerleader Alexis Pfalzgraf '22 said. "Some of the videos only showed the front view instead of the view from behind. So it was really confusing to know which hand or leg needed to move at a certain time. You didn't know if you were right, you just had to guess."
Some girls found it to be more beneficial. "Having to do tryouts online was really nice," cheerleader Madeline Hess '22 said. "I got to redo it as many times as I wanted until I was confident with my video."
During practices, mask-wearing is common when we are circled up talking about what the rest of the week is going to look like. When practicing cheers, we have to distance ourselves but are allowed to take our mask off if we decide to practice outside. During the football games, we have been lucky and we have not had to wear our mask but we had to give up stunting for the rest of this season. Not being able to stunt was not a very big deal to me because I was not very confident in my abilities since we did not practice much the previous years.
Wearing a mask on game day all depends on how big the stadium is. Luckily, we have a big enough stadium so we do not have to wear them. I do not like wearing the mask while cheering because whenever I breath in the mask suffocates me and I fell the need to rip off the mask. The mask also makes everything stuffy and hot, so it is also harder to breathe while trying to yell out the cheers.
One of the bigger changes for the cheerleaders is not being able to travel and cheer the team on at different schools around Iowa. Not being able to travel around the the football players was one of the things I looked forward to the most as a cheerleader. I loved going to the different metro schools and meeting the other cheerleaders from the different schools. Another great part about traveling was competing with the other cheerleaders. If they did a cheer that we knew we would do the same cheer but try to be louder than them. Eventually both us and the other cheerleaders would be yelling at each other with the many different cheers shared by both teams.
Other girls miss traveling too. "The biggest change for me was not being able to travel," Hess said. "Some of my best memories with cheer were when we were traveling or at away games." It was already hard enough for the varsity cheerleaders having to choose if we wanted to give up stunting or have masks on during the games but be able to stunt. Not being able to cheer at away games made us all very unhappy along with the no stunting rule we made for this year.
Another big change was our school's student section. "I was really looking forward to having an actual student section at football games instead of our parents like in previous years," Pfalzgraf said. "It was disappointing to a lot of people not to see friends or other students that made football games more enjoyable."
About the Writer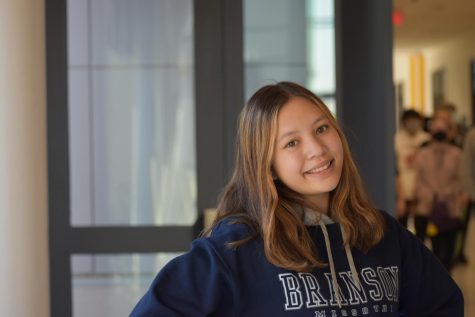 London Heim, Staff Writer
London Heim is a junior and this is her second year on the news paper staff. She loves the color pink and loves to watch anime which takes up her free...