Isn't It Romantic: Great Message, Mediocre Film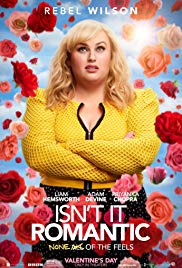 Recently, the film "Isn't It Romantic" came out, promising audiences an unorthodox story with an unorthodox female lead: comedic actress Rebel Wilson. Watching the trailer, it is not very difficult to gather that this story is a mocking take on Hollywood's most beloved romantic comedies, with some big message at the end about not needing a man to achieve happiness, or focusing on more important things like careers and friendships instead of dating. This is, of course, what I was expecting going into the theater. However, the film's message was not executed as well as it could have been.
The main character, Natalie (played by Rebel Wilson), is a realist, anti-romantic comedy, independent, 21st century woman. Her sole ambition is her work, which leaves her little time for men or the dating world altogether. However, after receiving a harsh blow to the head, she somehow winds up in an alternate universe, in which her life has become the plot of virtually every romantic comedy.
Of course, being the independent, defiant woman she is, she doesn't take the stereotypical route of most female leads in romantic comedies, choosing to focus on herself instead of falling for her supposed-to-be soulmate.
This message is a good one, given that practically every romantic ever portrays a life and love story that are difficult (and not at all necessary) to achieve in order to be happy. But, the message could have been conveyed better.
The movie was decently funny throughout, which is to be expected with Rebel Wilson leading the film, but there were some bits in which heartfelt emotion was trying to be conveyed in a slightly dramatic way, whether it be the rejection Natalie felt at the beginning of the film, or the realization that she needs to work on herself instead of focusing on her dating life. Both of these moments didn't have the intended impact, coming off as slightly forced or cheesy in their execution.
Also, the film is supposed to be about loving yourself, but the stereotypical ending of most romantic comedies did occur at the end; Natalie still fell for her intended "soulmate" once she woke up from the dreamlike, alternate universe, and the ending was still every bit as cliche as every romantic comedy.
Overall, it was a decent film. The message was a good one, and the comedy was pretty well done throughout, but it could have been done much better, and the message could've been conveyed in a much more meaningful, impactful way, instead of having the main character turn around and end the film in the same cliche way as the films that this movie, "Isn't It Romantic," was supposed to be making fun of.