Johnston Competes at State Wrestling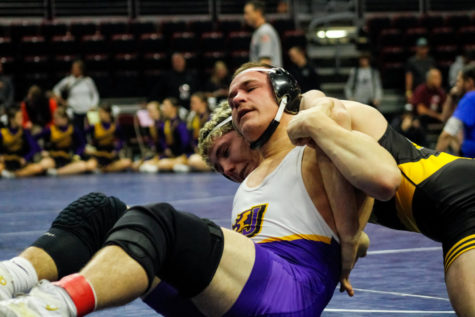 The wrestling team attended their fourth state wrestling competition since 2016 starting Wednesday, February 16, 2022. The boys ended their first match losing 64-12 against Waverly-Shell Rock (WSR). Johnston then went up against Ankeny for the second match, where they lost 55-19. Out of the 14 Johnston wrestlers that attended, only two won their matches. Shandrel Thompson '25 pinned WSR's 113 pound Gabrik Jones, and Will Scott '22 pinned WSR's 182 pound Zander Wedemeier. 
The team ended the weekend placing 8th overall for the team duals. Although the weekend was a tough one, student-fans kept their spirits high and continued to cheer for the boys. "The whole team works extremely hard to get where they are and if they make it or even if they don't, it just goes to show how hard working everyone is," says wrestling manager Gabriela Cooper '22. "…It really means a lot to not only me, but the other managers, coaches, and wrestlers on the team."
The individual tournaments started Thursday the 17th, the first session had Noah Madison '22 losing by a pin against his Ankeny opponent, making Madison the only Johnston wrestler to fall out of the tournament due to a double elimination. On a positive note, Jacob Helgeson '25 placed third in the 138 pound weight class, Brayden Blackorby '24 placed fourth in 152, Caden Leonard '25 placed fifth in 106, Sam Zindel '23 placed sixth in 170, and Jackson Brinker '22 placed seventh in 195.