"Land of Mine": Danish Oscar nominee tells forgotten World War II story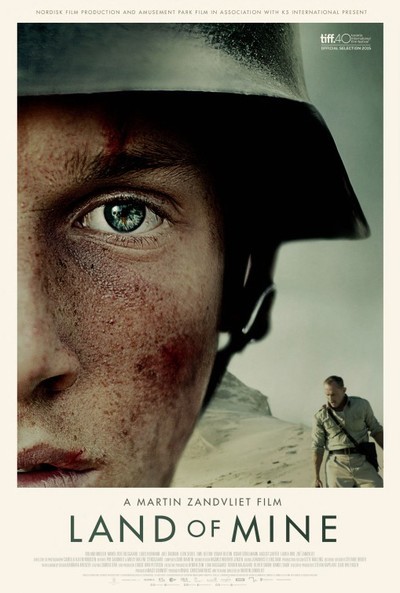 "Land of Mine", the Danish nominee for Best Foreign Language Film at this year's Academy Awards, is a tough, intense and stark movie. It is also incredibly touching and moving. It is the story of the end of World War II as seen through the eyes of a small group of German POWs, all just boys maybe between the ages of 14 and 19. They are prisoners of Denmark, where Nazi occupation has ended after five years. They are tasked with removing tens of thousands of landmines from a beach on the Danish coast.
Watching over them is a Danish Sergeant (played by Roland Møller) who is robust, tall and full of anger at the Germans. The tone-setting opening scene shows him driving past a group of German soldiers, and stopping to beat one nearly to death for carrying a Danish flag. At first I understood his hatred. I have seen so many movies where Germans are presented as nothing but Nazis or villains, and Germany did do unforgivable things during World War II, there is no denying that.
But soon we are presented close ups of the German boys as they are being driven to the beach. They are all so young looking. There are twin brothers (played by actual brothers Emil and Oskar Belton) who look no older than 13 or 14. A select few boys, including Helmut (Joel Basman), who looks the oldest, Ludwig (Oskar Bökelmann), and the twins, named Werner and Ernst, are given attention in the story but the one focused on the most is Sebastian (Louis Hofmann), a cute and resourceful boy who's maybe 17. In other circumstances, Sebastian would be a great leader. He is constantly coming up with new ways to uncover mines and is the one to speak up for the group.
At first the Sergeant hates these boys. He slaps them and screams at them. He nearly starves them and doesn't let them rest when they are sick. However this neglect leads to a boy getting so sick that he vomits on a mine he is defusing, causing it to go off and the young man to lose both his arms. This scene is devastating, as the boy screams for home and his mother as three of the others, including Sebastian, carry him off the beach. Like many scenes of intensity in the film, this plays out matter-of-factly, without the swelling music that might have been used had this been a Hollywood picture. The many scenes of the boys defusing the mines, already spine-tingling because we are watching kids defuse bombs with shaky hands, are presented as it would happen if we were right there with them, with no dramatic music or fancy angles.
Even though the Sergeant is angry and loyal to his homeland, he can't unsee the fact that they are kids. Kids who play with beetles in the grass and who cry out for their mothers. Slowly but surely, he begins to soften on them, mostly through a growing bond with Sebastian. There are many scenes of the Sergeant being exposed to their struggles, such as when he intervenes when they are harassed by British soldiers or when he comforts one of the twins, Ernst, after his brother goes missing, running his fingers through the boy's hair and whispering to him as if he were his own son. Møller's performance as the Sergeant is great throughout the whole film, but he is especially wonderful in his scenes of one-on-one connection with the kids.
All the young actors are excellent as well. As the oldest of the group, Louis Hofmann and Joel Basman both display lots of intensity and charisma, while the twins both bring a sweet and melancholy innocence, especially Emil Belton, who plays Ernst. All the kids are believable and sympathetic, which makes it that much harder to watch them crawl along the sand as they dig for something that could possibly kill them.
In the end, "Land of Mine" is an acute and very well-crafted story of resilience and connection, interspersed with harsh displays of suffering. It benefits greatly from its detailed depiction of time and place as well as the performances of all the actors. I would've gone with a less corny title (the title in Denmark "Under Sandet" translates to "Under the Sand", a title I would've preferred), but that is a very small complaint for a movie as down-to-earth, earnest and touching as this one. Truly explosive.
---
Final Verdict: 9.5 out of 10
Director: Martin Zandvliet
Cast: Roland Møller, Louis Hofmann, Mikkel Følsgaard, Joel Basman, Emil Belton, Oskar Belton, Oskar Bökelmann, Laura Bro.