Lay It All On Me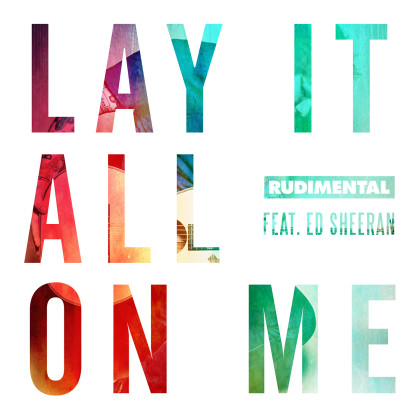 Disclaimer: I'm a huge Ed Sheeran fan. Additionally, I saw Rudimental when they opened for Sheeran in Minneapolis a year or so ago, and I quite liked them then. Arguably best known for their single "Feel the Love", the drum and bass band has the head-bopping beat down, Sheeran's vocals really topping it off. This is not the first collaboration between the two, as Rudimental is given writing credit on Sheeran's "Bloodstream" off his album "Multiply". With the collaboration on Sheeran's track, it's no surprise he returned the favor for Rudimental's sophomore album, "We the Generation".
Starting off with some quick piano chords, the genre turns somewhat pop-reggae with the addition of some steel drums before Sheeran begins to sing. When the regular drum set kicks in the tempo speeds up into a head-bopping rhythm, a song unlike most of what Sheeran is known to collaborate on and produce himself. The song's meaning is similar to the classic "Lean on Me," originally by Bill Withers, so it would have been nice to hear some new ideas in the lyrics, but it still has a great meaning behind it so I can't really complain. "So if you're hurting babe / Just let your heart be free /You got a friend in me /I'll be your shoulder at anytime you need," Sheeran sings.
Overall, I'd give the song four and a half out of five stars. It's catchy, easy to listen to and promotes a good message of friendship and reliability. Rudimental really pulled off a great collaboration with Sheeran.