Marching to the beat of success
At the start of the marching band season, the drumline members could tell it was going to be a successful year, in more ways than one. "There's a breadstick record at Fazoli's," junior and drumline member Sarah Henry said, "And we were determined to beat it. One day, we went and we ate all 80 breadsticks. And about a week later the boys' cross country team went and ate 100 breadsticks and just stole our thunder."
As a whole, the marching band had success in areas other than breadstick eating. The band finished second place at the Urbandale Marching Invitational, first at the Iowa City and Waukee Marching Invitationals, and received a superior rating at State Marching Contest. They also won Best Winds, Best Color Guard and Best Drum Majors at various contests.
There are two main categories when it comes to marching band: marching and music. When is comes to marching, there are many little details that go into making sure a marching band is marching to the highest caliber. "We spend a lot of time talking about how high to lift toes and where bodies are positioned," marching band director Patrick Kearney said. "We try to make it very uniform." Musically, they have to focus on things such as starting and ending each note together and getting louder and softer when needed.
The marching band starts practicing in June on Monday nights, and in August they attend a week of band camp where the band members put in over 20 hours of practicing. Once the school year starts, they practice daily before school. These practices are the stepping stones of their entire season, so they are taken very seriously.  "During the season, we practice every day at 7:00 in the morning and if you're late you're like ostracized," senior color guard member Elea Kaptain said. "It's really bad."
Toward the beginning of the year, some days are focused purely on music and other days are focused on only marching. "For a while those are kind of separate things," senior and drumline member Shane Burgess said. "The key part to making the show work is actually putting them together and executing both with 200% at the same time, which is really difficult."
During competitions, there are mainly four judges judging the bands. One judge is specific to drumline. The second judge on the field judges marching execution, looking at the band members' feet and specifically how they march. The remaining two judges are located in the press box, one focusing on musical effect and the other focusing on overall effect. In order for a marching band to be successful, it has to impress all four of these judges. Kearney, however, doesn't believe in creating a show that is solely for the purpose of impressing the judges at competitions.
"Some shows that you watch are very hard to relate to," senior drum major Erica Thacker said. "Mr. Kearney and Mr. Robilliard are trying to make the show more audience friendly because otherwise it can be really quite boring."
This year, in order to make an audience friendly show, the theme was Oz. They combined music from multiple Oz stories such as The Wizard of Oz, Wicked, Oz the Great and Powerful and The Wiz. One of the band's drills was especially memorable to members and fans. The band members arranged themselves in a formation that spelled out, 'Oz.' While it was really just like any other drill, where the students go to their assigned spots, this drill caused a little more trouble because of its easy recognizability. "Honestly, this is a little negative, but I had no hope for that formation all year," junior Sarah Henry said. "I saw it on the first day and I was like, 'Oh, not happening.' But it turned out pretty cool."
In marching band, there are many different individual sections that each have to work on their own time to improve throughout the season. One of these sections is drumline. Some of their cadences this year, such as 'Shots' and 'Turn Down For What' were a little different than the standard cadence. "We actually find them on YouTube," Burgess said.
This was not the only change for some of the drumline members. Henry, who changed from the frontlines in the pit to drumline, says she personally enjoys the change. "I really liked just being able to do something different this year," Henry said, "Being in drumline is way different than being in pit. Last year we never hung out as a section, but our drumline get togethers this year are really fun."
Color guard is another individual section in marching band. Like the other sections, color guard practices on its own time to improve. However, they have to learn choreography with flags, instead of music with instruments. The choreography is created by a choreographer who is hired and brought in, but sometimes, due to conflicts, the choreography has to be changed by the guard members. "For one of the songs, our choreographer couldn't come in, so she sent us videos, but they were all out of order and we didn't know what went with what music," Kaptain said. "So basically, I just took the videos and spliced them together and pretty much did my own movements with a little bit of inspiration from her videos."
On top of the choreography, color guard also has to master dancing with weighted flags. "We have to work really hard at it," Kaptain said, "We have to make sure we aren't going to kill anybody in the process, because it really hurts to get hit by those poles."
At the band's last competition, the Waukee Marching Invitational, they received first place and Kaptain, along with many others in the band, thought this was a wonderful way to end the season, especially in her senior year. "Winning best color guard and grand championship at Waukee was pretty great," she said. "It was an awesome feeling because it was our last competition and we really felt like we succeeded and we really felt like we had come a long way."
In order to reach every band's goal of a successful season, the whole band and all it's members have to work together smoothly. "It sounds cheesy, but you need cooperation among people," Henry said. "Marching band has a lot of ranks, and if you're not willing to take constructive criticism from people above you that are trying to help you, you're not helping at all."
According to the band members, the biggest secret of all to being a winning marching band is that every person has to care about doing their best. "Every member of the band has to want it at least a little bit for whatever reason," Kaptain said. "Want it because you want to make your mom proud or want it because you want to beat Waukee or because you hate Bellevue West. Every single person has to care about it because one person out of drill can dock you points."
About the Contributor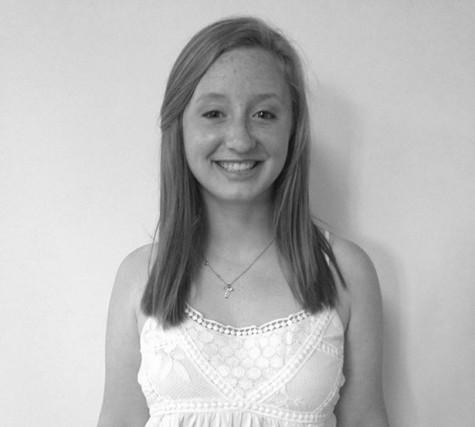 Hannah Crooks, Feature Editor
Hannah Crooks is a senior and feature editor for the Black & White. She is involved in Innovation show choir, Cantus, tennis, Student Council, National...