Marcus Miller
February 13, 2017
Marcus Miller '15 struggled with his sexuality while attending Johnston. During his junior year of high school, Miller began going to a very conservative church. The church had conservative teachings on many social issues. Miller was new to the Christian faith, so he just accepted what he had been told – if someone is gay, it is not an identity to be celebrated, it is an admission of guilt. LGBTQ+ people were not to proudly identify as a member of a community. They were expected to describe themselves as "struggling with same-sex attraction."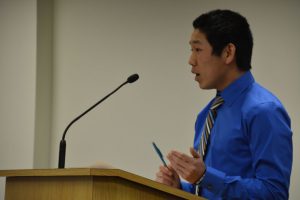 Wanting to stay true to his church's values, Miller accepted these views when he was in high school, even though he knew he was gay. "I genuinely believed that I needed to be single the rest of my life in order to live a life that was honoring to God," Miller said.
In Nov. 2014, he wrote a letter to the "Black & White," boldly proclaiming  his opposition to the LGBTQ+ community. "I want to take this time to apologize to anyone who may have been hurt by my words," Miller said regarding the letter. "The anti-gay theology that I was spewing out is incredibly damaging to the lives of LGBTQ+ people, especially youth."
Those conservative views stuck with Miller for part of his academic career at University of Iowa, and did not really go away until the end of his freshman year in college. He studied what the Bible had to say about homosexuality for six months and came to the conclusion that just as the Bible was misinterpreted when it came to slavery, it had been misinterpreted in topics of gender identity and sexuality.
Despite Miller's' experience with his former church, he still respects the church and those who attend it. Miller is still very religious, although he believes God has a more liberal view when it comes to social issues. "I want people to know that God's radical love extends to every individual, without condition," Miller said. "Everyone is welcome to Christ's table—a theology that suggests otherwise is out of sync with God's heart."
On multiple occasions, Miller has experienced discrimination within the Christian community. He was denied leadership positions in two different campus ministries at Iowa and was recently not allowed to volunteer at the Fellowship of Christian Athletes (FCA) lock-in as an alumni. They claimed it was due to his view on LGBTQ+ topics differing from many participants, but many volunteers said they were never asked about their views on LGBTQ+ topics. Miller believes that if the views were truly that important, the FCA would have screened all volunteers to ensure that the volunteers' views aligned with the views of the FCA. This did not happen. "I am very concerned about this—not for me, but rather how FCA, and other ministries at the high school, would treat someone who identifies as LGBTQ+," Miller said.
Miller is concerned for the mental health of an LGBTQ+ youth if they experience discrimination. Wanting to spread the acceptance, love and charity of God, Miller founded Love Works, an organization for University of Iowa students of the Christian faith. The organization focuses on spreading acts of love through the community, while tearing down the walls that the Christian faith has built. Love Works encourages marginalized individuals, such as those in the LGBTQ+ community, to come and spread the word of Jesus through volunteer services. Miller is hopeful that discrimination of LGBTQ+ individuals in school, church and every day life will end. "As someone who feels like I have a platform and voice—I will speak out against this, and do everything I can to fight for the rights and dignity of all," Miller said.