Mentoring for success
After listening to an exchange student from Ukraine speak about school life back in her country Nov. 19, Summit students migrated away from seventh grade language arts teacher Michelle Jordan's classroom to either pair up with high school students or work on their own for the rest of the afternoon including the pair sophomore Leah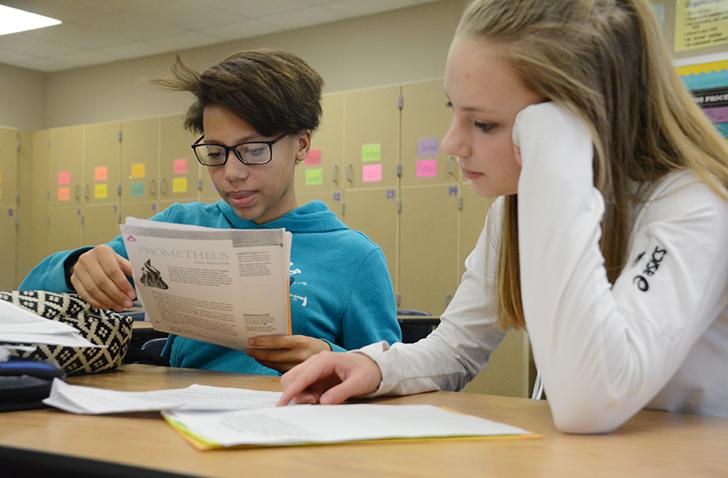 Denny and seventh grade student Serenity Gladney. The two went on to work on Gladney's writing assignment first, discussing how to structure her writing and create the task a bit more entertaining. Though working with a student who admires school already, Denny's partner joined the after school program Reach the Summit due to enjoyment of meeting upperclassman. "That made me feel great about what we were doing, they just want that relationship," Denny said. She and other volunteers are involved with the high school program Silver Cord as well as multiple school activities. Denny wants to use her own experience as an example for the participating students. "They can still get those grades that they wanted and still join different sports without worrying about their grades," Denny said.
Potentially heading into the teaching career, senior Danielle Hanson found the Summit program through Silver Cord like Denny. Hanson has already found that the program will not only be helpful in her future years, but that she can make a difference in a student's life even after the first day. "I just want them to find that in school you kind of have to try but it can be fun when you [do]," Hanson said.
Throughout the entire year Hanson, Denny and other student volunteers will be with the same student and help them out with a variety of activities, such as homework, organizing lockers and/or binders as well as holding conversations about their day, favorite activities and more. The 45 minute program holds the main goal of a student building a stronger and more positive relationship with school and others.
The growing program, now on it's third year, has 41 Summit students participating and around 16 volunteer high school students. If not for the amount of volunteers, the after school program would have only been able to take in 20 students. For seventh grade language arts teacher Michelle Jordan, it is important for the student volunteers to really grasp that they are making a difference in a student's life, even in a short amount of time. "I want them to see how powerful their role is as an upperclassmen in Johnston," Jordan said. One of the main goals for the program is to not only build up a relationship with others but draw the students into joining more school organizations.

"It was awesome to hear all the extracurriculars they're (high school students) involved in," Jordan said. "For some of these kids, (summit students) connectivity at school is non existent so we're trying to get them involved."
Reach the Summit was actually the positive spin off from a lack of a detention policy for not having homework complete. Jordan explained how it was more work for teachers to keep a student after school due to transportation issues. Thus, the idea developed into a more positive program after doing some research through Summit's behavior program Positive Behavioral Interventions and Supports (PBIS). PBIS found that negative discipline has no impact on changing behavior, which lead Jordan and other building leadership team to stray away from detention and focus on a fun after school program that would focus on building a strong relationship with school. "The conversation started as a detention policy and now it's turned into kids begging to be in the program," Jordan said.
Due to the number of students eager to participate, volunteers are wanted whether a Silver Cord participant or not. Contact Michelle Jordan at [email protected] for more information.