My Fair Lady 2018 Revival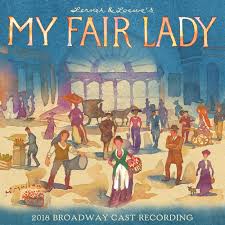 The My Fair Lady was revived on June 8, 2018. It was directed by Bartlett Sher and included 37 cast members. Including but not limited to Lauren Ambrose, Harry Hadden-Paton, and Norbert Leo Butz. The original performance was on February 15, 1956. The story follows young Eliza Doolittle who takes speech lessons from professor Henry Higgins. She does this so that she can pass for a lady. At the beginning of the story she runs into a handsome young man names Freddy. A romance springs between them. As Freddy and Eliza's relationship develops, Higgins begins to realize that he may have feeling for her. However, previously in the musical, Higgins had been treating her misogynistically. Because of this, Eliza and Higgins get into a fight. The musical closes with a moment of possible reconciliation.
I began to listen to it out of curiosity and liked it. The style is an older style of music that sounds like a mix of classical and old Broadway. The musical singing of Lauren Ambrose as Eliza Doolittle I liked a lot. One of her songs (I Could've Danced All Night) starts in a lower almost Soprano 2 key and dances along. As the song continues the notes begin to go up the scale. I, as a listener, don't always like listening to high notes. They can often come across as aggressive or annoying. The final note of the song is a high note that she sings in a vibrato. It was impressive to listen to and wasn't so pushed that I didn't want to listen.
Another song that stood out to me in this musical was On the Street Where You Live. This song is sung by Jordan Donica who is playing Freddy Eynsford-Hill, one of Eliza's love interests. During this song, he is going to Eliza's house to see her. He is confronted by her housekeeper who says she doesn't want to see him. The song then begins with him singing about being able to wait. The song has a perfect blend of both tenor and bass notes that are combined in a belt and a quiet hum. In this song the story is nearly perfectly portrayed in how it advances the story. 
Overall, the musical was great. The storyline was intriguing and interesting the full way through. The music was all well done and helped advance the plot. With the singers and the story working so well together, it's definitely a Tony worthy musical. If you haven't listened to it yet I highly recommend you do!