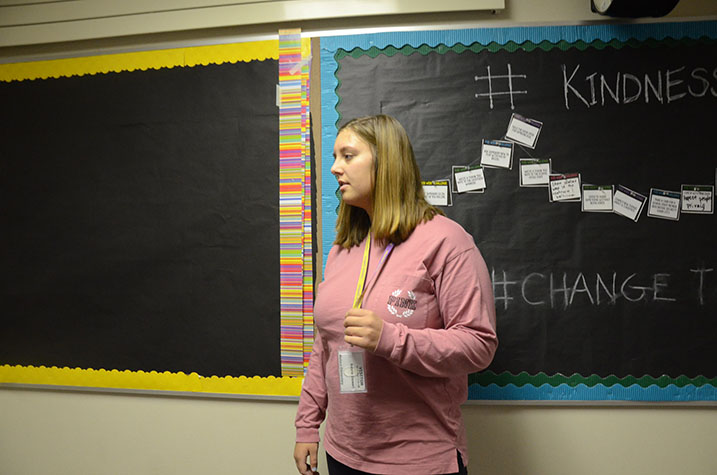 Natalie Stewart
April 4, 2017
"
It's nice because I'm a senior in high school and not a senior in college, so I'm not rushing to get my student teaching done… I'll have to do it but I will be more prepared."
Natalie Stewart '17 spends her afternoons surrounded by the second-grade class at Wallace Elementary School. She is an unpaid intern who assists all four of the second-grade classrooms. Her day consists of taking the students to lunch, helping teachers organize assignments and preparing lessons.
"My first couple of weeks it was kind of scary just because I didn't know the kids," Stewart said. " I was kind of just put into this and then had the teachers saying can you do this, this and this."

Stewart plans to attend college in hopes of becoming an elementary school teacher. School to Work class allows her to gain experience that would only be obtainable as a college student.
"It's nice because I'm a senior in high school and not a senior in college, so I'm not rushing to get my student teaching done because there's a lot of them coming into third and fourth grade," she said. "They're all rushing to get their last one in and I already have practice. I'll have to do it but I will be more prepared."
Stewart enjoys spending time with kids and getting to know them. After three hours at Wallace, she goes to a local daycare where she works for four more hours. She appreciates seeing activities she had done in elementary school, done by the students.
One memory she has from her childhood, that is reflected by the students is participating in a mock farmers market. The students sold small candies or items for 25 cents.
"I remember doing that in second grade and I brought care bear rings and little Lifesaver candies, and I sold that for 25 cents. Just seeing that I was like 'oh my gosh,' life was so easy back then," she said.
"
My first couple of weeks it was kind of scary just because I didn't know the kids. I was kind of just put into this."
— Natalie Stewart
Another aspect of Stewart's day is helping students who may have trouble paying attention and following the rules. Some students respond better to her as they are with their teacher for much of their school day. One experience she had was with a student who had gone into the teacher's closet, an area they are told not to enter.
Stewart is forced to find alternative ways of helping troublesome students. "We asked him to grow his brain because that's what we have to talk about," she said. "I was like, 'okay let's go grow our brains and do science.' He really likes science so we kept him out in the hallway and did a mini-lab."