New local rock band The Yelps debuts at Vaudeville Mews
A need for food plus a little inspiration from a HuHot waitress surprisingly equals local band The Yelps first original song, "Perfect Stranger", played during their debut performance Aug. 30 at Vaudeville Mews. The band made up of senior Joe Thatcher [guitarist], juniors Kyle Burgess [lead singer and instrumentalist], Michael Gedden [bassist] and Spencer Wolfe [drummer] along with sophomore Jesse Balmer [keyboardist] were hesitant at first, but The Yelps eventually said their performance didn't go as bad as they predicted, with a rather large crowd to back it up.
Though the band  name does not have an inspiring back story, the group that places themselves in the rock genre had a few options to choose from.
"We were going to be the Napkin Holders, the Spoons, we had a lot of different ideas," Thatcher said about their group message full of random and sometimes jokes of suggestions. Burgess sent out "The Yelps" as one of the jokes however all agreed on the name that eventually just kind of stuck.
While they have a name, the group is still trying to figure out what their style of music is exactly but they all bring something to the table.
"We all kind of have a certain sound that we like, so we all kind of embody that sound and it all collides," Burgess said. For now they want to stay in the rock category and continue to write music that differentiates in style until the shoe fits.
When taking a look up at the band during their performance, there were a few familiar faces to the local band scene, Burgess and Gedden of 515. Though the band has broken up, they are still working on their first album Mind Monsters together but the two yet to graduate wanted to continue live shows, thus bringing together the other three musicians.
"I try to think of it separately like that 515 is a different sound than the Yelps," Burgess said when asked about being compared to his previous band. Though he and Gedden still are apart of that experience, they want to branch off into another world of music.
As of now, The Yelps are planning to eventually discover who they really are as a band, gain more exposure and put out some more material for listeners.
"We have a lot of work to do, but it's been fun so far," Thatcher said.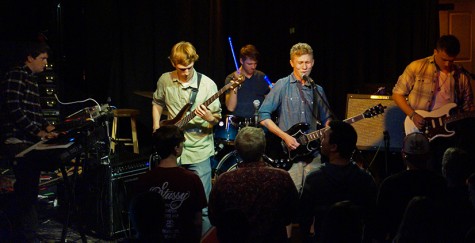 The group's next performance is at the Johnston Public Library Oct. 24 for a pre-Halloween show where the crowd is encouraged to dress up for the holiday, doors open at 6:30 pm show starts at 7 pm. To learn more about the band's music, shows and more check out their twitter @TheYelps for more information.