No such thing as 'the library policy'
Students have the misconception that they aren't allowed in the library for free periods or study halls. Student Katelyn Winkler '19 wasn't sure where she had heard of the policy. " I just heard it through the grape vine," she said.
This has recently been disproved by Ryan Woods sending an email out to teachers explaining that the library is free for everyone's use as long as they have Ruth Thoreson's explicit permission. "Students are more than welcome to use the library during study halls and free periods," He said. "I hope they do."
With this new information,Winkler guaranteed that she would be present in the library for future days. "I love hanging out in the library," she said. "I just didn't know I was allowed to be there."
Thoreson, the school's librarian, hopes more students will come to the library during their free time. "If [students] aren't here with a class, there's two or three per period," she said.
Some students are interested in the Makerspace, or printing off the computers. The majority of the time, however, the space is near empty.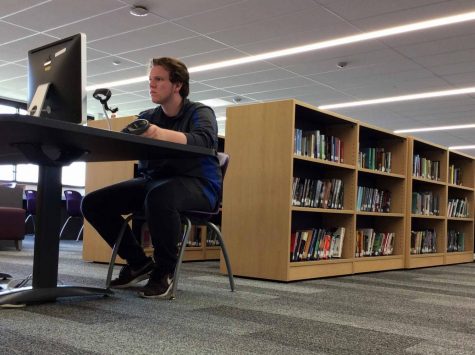 It is a noticeable change from last year's library. The noise level previously showed how lively the room was. "It bothers me that we have this beautiful facility and it's not being used," Thoreson said.
There are very few students who come into the library to talk with Thoreson or to hang out with friends. Since she's separated from the chatter, Thoreson doesn't know why so few students choose the library as an area to stay during their free times.
Thoreson wants all of the new equipment to be enjoyed. "We've got the great area in the makerspace this year, finally," she said. "We've got the keva blocks and Maka-dos which are like magnetic blocks that [students] can build with."
The few students who have been in the library this year have managed to build a wall from one end of the long tables to the other end.
One of the main reason Thoreson hasn't been actively promoting the library as a place for students to come hang out in during their free time is due to the current situation with electronic passes. Last year, Thoreson laminated passes to enter the library for a period. Students could check out a pass at the beginning of each day, and turn in when they arrived. This year, she wants everything to be electronic.
There is currently a problem with the software Thoreson has been trying to use for the passes. She decided to talk to Student Nick Graham, who has gained experience by coding video games, robots, websites, and apps. He also teaches classes on programing to get others interested. Graham is working on partial software in order to make it work for Thoreson's needs. "She wanted a program written where the library would be open from 7 to two o'clock, people submit requests to come in here, a limit of 20 people for every period," Graham said. "I'm in the process of writing a program for her where all those conditions will be met."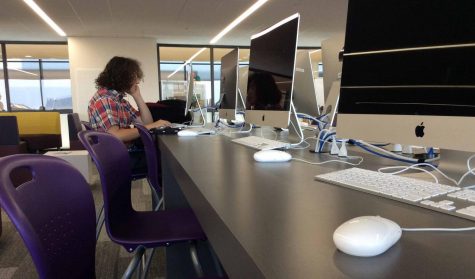 One of the big things Thoreson is looking for, is that people will be able to easily gain access to the library. "It's more accessible to find the QR codes around the building and sign up for time slots," Graham said. "That can increase the number of people in the library."
This allows Thoreson to alert students that the library will be full that class period without students having to be turned away at the door.