Parent Equity Group Works with District
On Sep 28, the group Parents for Equity and Anti-Racism presented The Equity and Anti-Racism Project to the Board of Education. "The presentation aimed to highlight the needs related to equity and anti-racism at JCSD," they said. "It presented a brief overview of the needs and wants of students, families, and staff of color in relation to the Equity Goal in the JCSD strategic plan. We sought to highlight the many opportunities that we have as a school district toward becoming an equitable and inclusive school district." The meeting minutes and the full presentation can be found here.
They also aim to help the district make changes. "The presentation was also created and shared to gain Board approval of the recommendations and inform them of the intention to define and present a multi-year plan for achieving equity and inclusion goals," they said.
Since presenting their project, the group has begun working with district administrators. "We continue to be in conversations with Joy Wiebers, Director of Student Support and Equity, and Laura Kacer, Superintendent, about our shared equity goals," they said. "We have met on several occasions following the September 28th presentation to the Board. As noted, we have shared a multi-year proposal to pursue the equity goals outlined."
The district will use the recommendations and proposal to take action. "I think what we need to do as a district is talk as a board and as a cabinet about what are some of those pieces that we want to tackle and start working on through that strategic plan and really formalize steps in place," Wiebers said.
The Parents for Equity and Anti-Racism, formed by Luana Nelson-Brown, Bridget Neely, and Shalome Musigñac-Jordán, came together following students' concerns earlier this year. "After the murder of George Floyd, demands from JCSD students emerged following a tweet from the JCSD Twitter feed," the group said. "The tweet represented the district's response to George Floyd's death and the spotlight placed on racial injustices in America. The student's strong concerns, as well as personal experiences within JCSD, inspired three Johnston parents to take action by facilitating focus groups with parents of color, students of color, and teachers and staff of color."  
Ultimately, their name conveys their goal. "The project presents an approach to intentionally focus on enhancing equity and anti-racism throughout the district," they said. "We strongly believe that JCSD is in the position to incorporate the changes students, families, and staff of color expect to feel engaged, supported, and safe at JCSD, and to lead the charge in supporting the community at large in the shift to center equity and inclusivity with the rapidly changing demographics of Johnston."
Over the summer, the group worked with multiple Johnston families to create the project. "The group involved the engagement of parents of color, students of color, and staff of color to talk about issues in the district around racial justice, equity, and inclusion and the needs and wants of students in the district," they said.
In their work, the Parents for Equity and Anti-Racism used focus groups with families of color to navigate what the project detailed. "The project has a unique approach that may be unlike other organizations that are not in tune with Johnston families of color," they said. "Our approach centers the needs and voices of families of color, including our own, as we navigate living in and interacting with JCSD."
These focus groups provide stories and insight into being a person of color within the district. "I really liked their parent forum or a space to have both students and parents be able to go in a safe manner," Wiebers said. "Again, I think sometimes, when you hear authentic stories, and you have something shared directly with you, that can help hit you in a different way than just learning about or reading about a topic."
Wiebers is looking to do the work even if it takes time. "I think the other struggle and challenge is this is some deep, personal work that people have to go through," she said. "So, while we can make some quick changes, I think this work takes a lot of self-awareness, and it's going to take a little time too, which is hard to balance."
The group looks to the whole district for this project. "We will need "all hands on deck" from students, to parents, to teachers, to other staff, to administration, and many other community players and allies," they said. "Our hope is for all in the community to join us in this endeavor."
About the Writer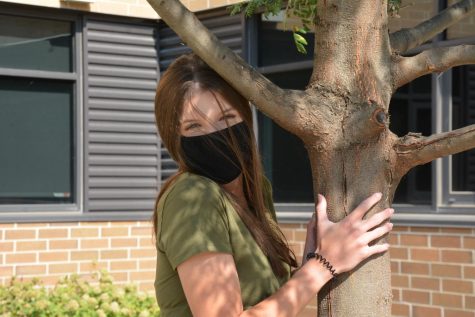 Savannah Dennis, Print Editor
Savannah Dennis is now a senior (scary) in her second year on the Black and White staff and is filling the role of Print Editor. When Savannah isn't...