Petition on a mission
Students create a petition to bring back the handprint wall.
As the Black & White reported in Oct., the tradition of the handprint wall will not be continuing this year. Since that news broke, students Josie Barsness, 18′ and Abby Watkins, 19′ came together and created a petition to bring back the handprint wall.
Barsness and Watkins are both very passionate about the handprint wall, voicing their frustration with the sudden stop of the tradition. "Abby and I had always talked about how frustrated they were not doing that handprint wall anymore," Barness said. "Once I read that article from the Black & White (in the October issue), I was like 'you know what, lets just start a petition,' and so I called her and she agreed to it."
So far the petition has been successful for both girls. "I think [I] have currently a little over 150 (signatures) right now," said Barsness. "It would be really cool to have 500 (signatures) but I think I am probably going to get around 300. We haven not really talked about a goal, we are just trying to get as many signatures as we can."
Watkins currently has a little over 90 signatures, but hopes to get more. "To get half the school would be a complete long shot, so I would say 250 would be good. It is reasonable, and it is still a significant chunk."
Principal Ryan Woods was not aware the petition had been created, but was able to give me more details on why there will not be a handprint wall this year. "We are in a new building, everything takes time,"  Woods said. "We have really only been here three months, maybe four months max, so I use the analogy, it is like if you have ever moved into a new house, it is not like home for a while, and as big as we are its going to take time for us to make this home,"
Woods also mentioned how he is looking for students to come up with new traditions, and that he is not necessarily getting rid of the handprint wall forever. "I think at some point you look at how things are going, and if theres ever a good time to maybe consider new traditions, this is probably it," said Woods. "Again, I do not ever think we have said we wo not do it, or bring it back. I just think it is a great opportunity to think about that it is 2017, do we want to do something with more technology that will last forever?"
Both girls hope to get a positive reaction from Woods, and Watkins even has a specific plan to approach Woods. "I think that when we go present this petition we are going to go in there and set this down at his table and be like hey, this is in [the] best interest of your students, a lot of people want this and you cannot deny what is sitting right in front of you," said Watkins. "It shows that we care and we want to build this school and make a connection with it, make it our own."
About the Writer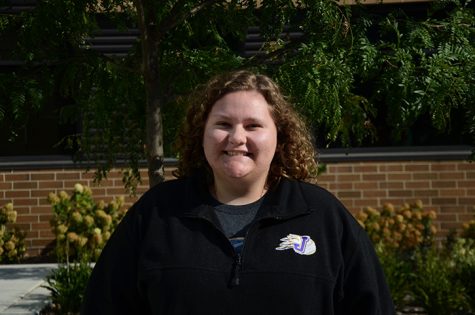 Megan Walker, Staff Writer
Megan Walker is a Senior, and just joined Newspaper this year. She enjoys hanging out with friends and family, reading, and procrastinating til the last...