Pink for a Cure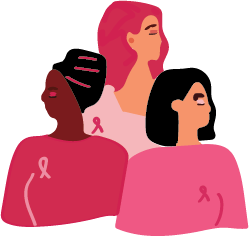 October is a unique month, where the weather gets cooler and the trees change color, but many people forget that October is also Breast Cancer Awareness Month. For most, people have only heard of breast cancer or witnessed someone else go through it. However, others have experienced breast cancer themselves, such as a couple of teachers at Johnston High School.
"I was diagnosed when I was 34. I'm 42 now, so, eight years ago," said Spanish teacher Kari Gray. "I don't typically do my own exams, but I felt something and sat on it for a couple of weeks, and I ended up going to the doctor. She didn't think it was anything, but she still sent me to a place to get a mammogram, and by the time I was leaving my [mammogram] appointment, they were setting up follow-up appointments, so I kind of knew there was something going on," Gray said.
Biology teacher Rachel Jensen has witnessed a different perspective of breast cancer. "My mom had what they call triple-negative," Jensen said. She was diagnosed with stage two initially, and then it moved to stage four. Jensen's mom was diagnosed when Jensen was just 24 years old. "You see everyone else who gets breast cancer does not survive, and I was thinking, 'I'm only 24 years old, that's not fair! I want to have my mom forever!'"
Even though there's a lot of bad involved in breast cancer, Gray has spread some positivity. "In the student council, we started Tiff's Treats for care packages. I remember the first time we took the kids to these facilities; we got chills just being there," Gray said. "We got thank you cards, and I think the kids really just understood what it meant."
Jensen has also begun activities to spread awareness and positivity. "Before my mom passed, she started these care bags. They're called Laura's Little Bits of Comfort, and inside are things that my mom felt cancer patients needed, such as hats for when it's cold, bottles of water because nothing ever tasted good to her, and we even started putting masks in there," Jensen said.
Another good thing that Jensen was able to experience during her mom's journey was going on a family vacation to Florida, which was where her mom wanted to go. "We knew that we had time, we just didn't know how long," she said. "We even took a wheelchair. We had a wheelchair on the beach. It was nice though, it was where she wanted to be, and we got to spend time there together, so it was perfect."
One of the biggest challenges Jensen went through was taking care of her mother during her treatments. "My mom and I kind of reversed roles, you know, she took care of me my whole life, now it was my turn to take care of her," Jensen said. Although she took on a more parental role, Jensen never forgot her age. "I feel like I grew up a lot faster," she said. "I feel like, you get out of college and you're still trying to figure everything out, but for me it was like 'nope, I'm an adult, I'm taking care of you'".
Another one of Jensens' challenges was time off. "After our trip to Florida, my mom got put on at-home hospice, but it was especially hard for me because it was my first year of teaching, and I only had so much PTO I could take," she said. Jensen decided to move back home to be with her mom as she needed to be, but that brought in its problems. "I ended up calling the school and told them, 'I can't come school right now, it's too close, I don't know if it'll be today or tomorrow'".
Despite the challenges both women faced throughout their journeys, they ended up having advice to give to others who might be going through the same thing. "Do your exams, go to the doctor. I had cancer at 34 without any family history, and I wouldn't have gotten my first mammogram until I was 40," Gray said. "I'm one of those people who show that you need to take care of your body and realize what's going on with it."
"Take it one day at a time," Jensen said. "It feels like an eternity going through it, but you can't stress over what you can't control."