Rolling in the Dough
Applying for scholarships can help offset the costs of college.
In these divisive times when it is seemingly impossible to reach a general consensus, the American people seem to agree on one thing…college is expensive. In Iowa, the average cost for a four-year public college is an average of $19,548, while a private college education costs $43,921. With tuition rates rising every year, and a massive cut in student aid proposed by President Trump and Education Secretary Betsy DeVos for 2019, students find paying for college is a stressful experience that often results in an sad, empty wallet, ramen noodle rations, and much crying. To help offset costs, many students take advantage of the numerous scholarship opportunities offered by the high school, local businesses, and large corporations.
Katelyn Winkler '19 has applied for a total of 25 scholarships. "If I put in an hour to apply for a scholarship, that hour could equal $2,000," Winkler said. "So I am getting paid for an hour of time. I feel like a lot of teenagers are lazy…so if I go above and beyond and try my hardest, it could be a big reward in the end." 
College freshman Kathryn Ikeda '18 did not apply for as many scholarships, but agrees they can be financially beneficial in the long run. "I ultimately applied to four scholarships, and received three totalling in $2,500," Ikeda said. "Two scholarships were related to journalism, one was through my church, and the last was with the Dragon Scholarship Fund…I think applying can be worth the effort as long as students are realistic about their chances."
Scholarships can be a saving grace for desperate students scrambling for extra money, as investing time in applying for scholarships can literally pay off in the end. According to debt.com, $46 billion in scholarship and grant money is awarded to students each year. "I would much rather know that I can go to college and not have this debt looming over me, and know that I did everything I could to know that I am getting the best return on my investment," Winkler said.
However, scholarships require dedication, effort, and motivation in order to apply. "Each scholarship took so much work," Parul Srivastiva '19 said. "I know that many people say there are so many scholarships just waiting for students to apply for them…I honestly couldn't find any like that. The ones I found were like a formal paper with annotations. I'll obviously try harder once I get closer to college." 
Winkler found she was not as crunched for time, as she dedicated her Extended Learning Program (ELP) project specifically towards applying for scholarships. "I applied for local scholarships as well as national lottery scholarships that aren't as likely for me to win…it's important to manage your expectations considering thousands of students may apply."
Ikeda tried to find scholarships that few students were applying for to increase her chances of winning. "Numerous people encouraged me to apply to every random scholarship I could find, such as scholarships for having ginger hair or wearing glasses." Ikeda said. "However, thousands of people apply to these scholarships and are often chosen arbitrarily. I'm very glad I stuck to a few meaningful scholarships. Applying for the scholarships took very little time, maybe about twelve hours spread over two years. The time spent on each application varied depending on requirements. I found that they tended to ask similar questions, so even essay writing took less time than expected."
Counselors encourage high schoolers to apply for scholarships by doing short lessons in financial literacy classes, as well as discussing financial aid options in junior and senior meetings. "Scholarships are free money to students and families," Counselor Lisa Boge said. "It can feel like a part time job, but a couple hundred dollars here and there can add up and pay for a lot of your college."
However, with extracurriculars, work, and classes, high schoolers can have higher priorities than applying for scholarships. "I chose to spend my senior year spending time with friends and studying for AP tests rather than applying to a hundred scholarships." Ikeda said. "Of course, it helped that most realistic scholarships required students to stay in Iowa for university, which I was not. That definitely cleared out the field for me and helped me prioritize which ones were actually worth applying to."
About the Contributor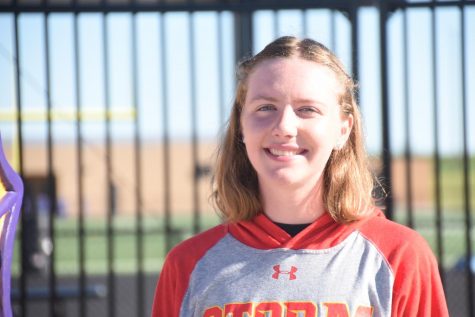 Caroline Christensen, Content Manager
Caroline Christensen is a senior and this is her second year in newspaper. When she is not working or snuggling with her dog, you can find her doing old...