Royal Blood and Mini Mansions deliver strong presence
Stepping into Woolys May 30 was like walking into a 90s rock concert just due to the crowd alone. Though smartphones and cameras still littered above, shoulder length hair whipped around and hands were up in the air bringing back the feel of the era. Going into the venue with an open mind I wasn't expecting what I saw that night, but it definitely was an experience. Spacious was surprisingly the first thing that came to mind when initially walking into Woolys due to the  wide open area that rested in front of the stage. Streetlights were the main source of light giving off a comfortable glow, making the industrial like atmosphere more welcoming. Though the space gave off the illusion that quite a few people could fit during the beginning, soon that all dissipated after the opener headed on stage.
Mini Mansions took the stage in fancy suits adding more sophistication to their unique ballad meets rock style. Honestly I wasn't sure what to expect from the band, mainly going to the show for Royal Blood, but found myself pleasantly surprised. Though they had a few unusual quirks, the trio not only revealed they could work together to create a pounding rhythm but had vocal talent through Tyler Parkford and Michael Shuman's eerie voices. However I did feel as though the beat and keyboard overruled Parkford and Shuman at times, though it could have been where I was situated, and they did become a bit monotonous after the first few sets. But the group finished strong with their last song "Freakout!", which had an equal balance of their talents. Overall I thought Mini Mansions was a success, bringing an old twist to a new style.
While waiting around for the headliner, I had the chance to people watch again which turned quite interesting. Since I was practically shoulder to shoulder with the speakers, that practically burst my right eardrum, I had to stand amongst those who were fairly tall but that didn't affect me too much. The crowd had shifted closer to the stage as more and more people under the influence and around their mid-twenties decided to make their way closer to the low barricades. Eventually the shuffling and maneuvering ended once Royal Blood made their grand entrance full of bright strobe lights.
Blowing away the previous act, the band consisting of only two sent constant waves of energy through the crowd compared to the opening act. Though I couldn't always see them due to human jumping beans one, two and three, their presence alone was enough for me. Personally I wasn't a huge fan of the repeating chorus lyrics or every once in a while mediocre vocals, but I found the instrumental talent from both Mike Kerr and Ben Thatcher shook the ground with skill. The pair also connected more with the audience stirring up the lot with loud bass lines and even standing amongst the crowd. I was impressed by the amount of energy Kerr and Thatcher produced through a set of drums and a bass guitar, their presence certainly made known in the venue. Overall Royal Blood would be a band to see again, and I highly recommend if you're into heavy rock and good energy.
Concert rating scale 1-10 [10 being the highest]
Experience: 8
Venue: 7
Price: 8
–
Mini Mansions
Instrumental: 7
Vocal: 6
–
Royal Blood
Instrumental: 8
Vocal: 6
About the Contributor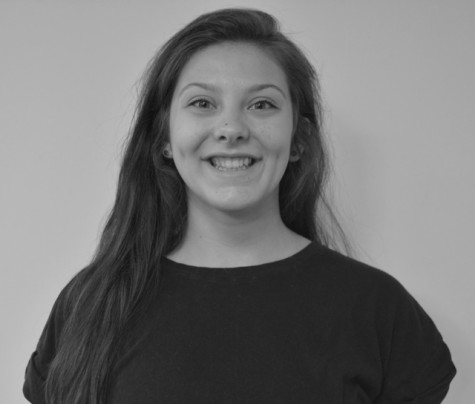 Kate Lichter, Online Editor-in-cheif
Spending most of her senior in the jlab this year, Kate Lichter takes on the title of Online Editor in chief. You can find her taking photos, listening...