School lunch is best option for students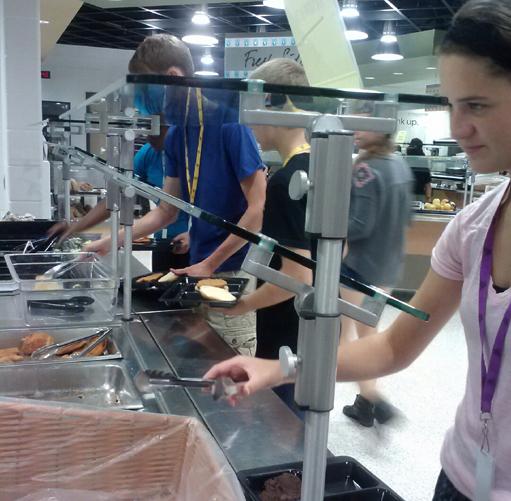 Everyday, I walk into the cafeteria at lunch time with anticipation. Anticipation of what today's lunch will be. Will it be Galaxy Pizza with mandarin oranges, or will it be pasta bar with steamy marinara and cheese? Will it be bosco sticks with cucumbers, or tetrazzini with a dinner roll? I can go on about the yummy combinations the school lunch provides everyday, but I realize not everyone shares my enthusiasm. Many times I hear comments from my peers dumping on the school's lunch. Contrary to some obvious beliefs, I believe everyone should appreciate the benefits that school lunch can provide.  
Eating lunch, whether it is from school or another place, is beneficial to students. It may not compare to breakfast, but it is still very important for the average student. The lunch meal helps the average student consume the amount of calories he or she needs to reach their maximum performance in each day. According to WebMD, high school students should be consuming about 1800-3000 calories per day, depending on gender and activity. Also, we all know the importance of a balanced meal. So do not skip lunch (especially if it is Chinese Day) because you will be missing out on vital calories and nutrients to stay healthy.  
The average serving size for a school entree has about 200-300 calories, not including sides. And no, the bosco sticks are not 1,000 calories like many think, they are exactly 300.
School lunch is designed for students to fill up, get energized, and receive the nutrients they need. There are many different choices, so do not be that kid that can never find anything enjoyable to eat. There is a salad and soup bar, bagels, muffins, cheeses, uncrustables, yogurts, vegetables, fruits, different sides, desserts and variety of entrees each day, that change daily.  
"The favorite entree among the students is the pasta bar," lunch associate Renee Topper said. This was already obvious though, just by looking at the line for it pouring out the doors.
"My favorite is the chicken quesadillas," senior Simran Aulakh said. "It tastes as though I ordered it out of a Mexican restaurant."
Although the vast majority of the school population eats school lunch, there are still handfuls of students that bring their lunch from home.
"I like bringing my own lunch, because I can include my favorite foods, and save money as well," junior Shayna Stubbs said. Although it is true that the cafeteria does not sell Stubb's favorite, Nutella sandwiches, the lunches do come at a low rate.
For one meal from our cafeteria, which includes an entree and sides, the total adds up to $2.60. Using Stubbs' cold lunch as an example, a sandwich, a bag of Lays, and an apple costs about $3-4, depending on how much your local grocery store chargers. Adding up a school year's worth of cold lunches compared to school's lunches, the difference in savings can add up. If price is an issue to students, there is the option of a reduced meal, which costs $0.60.
And yes, every sane person should love going out to eat whether it is breakfast, lunch or dinner. But if you are someone that goes off school campus to to eat lunch often, prices can really add up. For example, if you go to Jimmy John's during lunch break and order the cheapest meal (Slim Jim) for $3.50, you're still overpaying for lunch. Also, you're not getting the sides you could get if you got school lunch.
Speaking of the sides served for school lunch, there is also the additional perk of getting dessert as well. I, for one, have a devotion to the chocolate cake and cinnamon rolls. But nothing, nothing in this world, will ever compare to "cookie day." There are no words to describe that circular piece of heaven served each Tuesday and Thursday, (which by the way, rumor has it that the recipe is online somewhere).