Selfie Olympics cancelled because of Ellen DeGeneres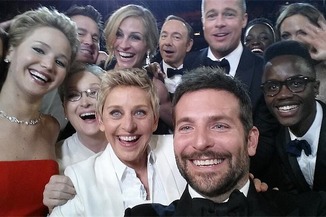 The Black and White was planning on holding a Selfie Olympics through Twitter, however, that idea was shut down when Ellen DeGeneres posted her all-star selfie.
The Selfie Olympics was planned to go through the month of March, and students would take a selfie and use #JHSselfieolympics on the tweet. Votes would have been casted by favoriting the photo. This was cancelled because no one's selfie could compare to the one with Ellen DeGeneres and other celebrities.
During the 2014 Academy Awards, host Ellen DeGeneres posted a selfie to Twitter with famous celebrities featured in it, writing, "If only Bradley's arm was longer. Best photo ever. #oscars."
The photo has over three million retweets and over 1.6 million favorites, all in less than a day. Ellen now holds the record for the most retweeted tweet of all-time, the first Twitter user to reach one million retweets for one single post. The previous most retweeted tweet of all time was a photo of President Barack Obama when he was re-elected in November 2012.
Ellen also ordered pizza for the audience members at the Academy Awards.
After she gave delivered the pizza to the audience, Ellen being the hilarious person that she is, went on to acquire tips from the audience in Pharrell Williams' hat.
This hat was the same one that was the butt of jokes during the Grammy Awards. It was recently sold to Arby's for $44,100 in an auction on eBay.
Ellen's mission was to have her photo be the most retweeted tweet of all time, and became successful by a long shot. This may have changed the plans for the Black and White, but it just wasn't comparable to the recent all-star selfie. But Ellen has a kind sense of humor that is hard not to love, and her quirkiness made the Academy Awards, and her tweet, very enjoyable to all kinds of viewers.