Snow Many Cancellations
With the looming presence of bad weather and resulting cancellations, extracurricular activities have been affected significantly.
A polar vortex swept across the United States, bringing harsh weather conditions with it. Johnston saw record lows with deadly winter temperatures. As a result, the school district was drastically impacted. Within the span of two weeks, two early-outs, two school cancellations, and one late start were announced. Despite the differences in cancellation, the difficult process for deciding if a cancellation occurs remains the same.
In the possibility of bad weather, district personnel, including superintendent Laura Kacer, watch weather forecasts throughout the night and early morning. "We pay attention to what the National Weather Service is saying and usually start communicating with other Metro superintendents, as well as people in the district," Kacer said. "That helps me to get a better understanding of what it's like in their area."
The school board typically corresponds with Waukee, West Des Moines, Urbandale, and Ankeny. Apart from other school districts, the Superintendent's office is in contact with the school bus service and local city and law enforcement to make an informed decision.
Oftentimes, decisions can only be made at the last minute. Conditions such as temperatures, amounts of snow, and visibility play a role in determining school cancellations. "We want to be careful to not get too far ahead," Kacer said. "We want to be sure that we're doing the very best that we can."
Once a decision is made, students' families are informed early in the morning via email and automated phone messages.
More often that not, sc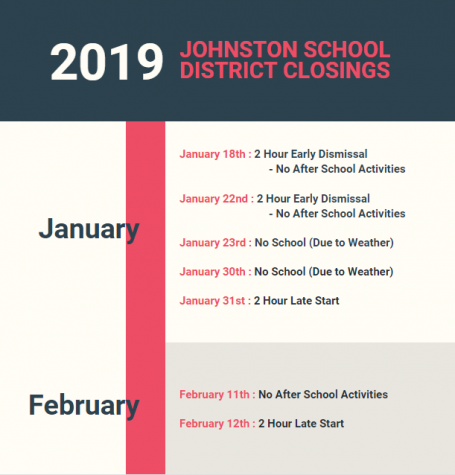 hool cancellations have an effect on extracurricular activities. Sports and activities, such as Academic Decathlon (AcDec), sponsored by Sue Cline, and Jazz Band, directed by Jeff Robilliard, have been affected during this winter. In some instances, only practices are cancelled, but in others, important competitions and events are put under pressure.
In the case of sports, games and practices have been cancelled. On Feb. 11, the 8th grade girls' basketball team had been scheduled to have a game in Southeast Polk. However, due to the frigid temperatures, evening activities were cancelled and the game was ultimately cancelled. Various high school practices were also postponed.
However, for academic activities, rescheduling cancelled events is not quite as easy. Academic Decathlon is an academic competition designed to test a student's knowledge in various events like art history and economics, pertaining to a certain theme (i.e. the 1960s). This year, AcDec's regional competition was hosted by Johnston on Jan. 24. "There is one regional, and that is why the snow was such a panic," Cline said. "If you don't go for a regional, you cannot qualify for State." Although the possibility of bad weather had been high, AcDec participants were lucky in that the regional competition was not cancelled. The event still felt the effects of the weather though. Four of the 18 teams from other schools scheduled to compete were not allowed to attend, and as a result, large sections of time, during which students were meant to compete, were empty. On the 25th, the event began two hours late, which pushed the competition to finish at a faster pace.
Activities like Debate have also been negatively impacted. A tournament in Iowa City was cancelled, curtailing the travel plans of Siri Mandava '21 and other members of the Speech & Debate Team. "I really wanted to debate," Mandava said. "I would have still gone to the tournament if I could have, because I like debate."
Musical extracurriculars have also been strained as a result of the weather. Jazz Band is made up of four separate bands, grades 9-12, with more than 100 students involved overall. The season typically begins in December and ends in April. Varsity group Jazz Syndicate performed eight times throughout the school year, on occasion traveling outside of the Metro area for events. Rehearsals play a critical role in preparation. "When you plan the music you'd like to perform, the idea is that you give the [Jazz Band] music that is difficult to put together, but isn't so hard that they never quite get there; you also don't want to short change them and make it too easy," Robilliard said. "You plan for that music and need a certain amount of rehearsal time. When you lose days, it's stressful."
Because of bad weather, Jazz Band was not able to go to the Simpson Jazz Festival, losing an opportunity to qualify to the Iowa Jazz Championship; every festival is a chance for Jazz Syndicate to be selected for the Championship.  Despite lost rehearsal time and a lower number of festivals to attend, members of Jazz Band were still able to do well at other festivals, like the Jack Oatts Jazz Festival, and qualify to the Iowa Jazz Championship.
The biggest effects were felt by another side of Johnston's music program: Show Choir. On two separate occasions, Show Choir felt the detriments caused by the weather.
On Jan. 18, Showzam, Johnston's show choir invitational, was scheduled to take place for all middle school and 9th grade groups to perform. However, due to the predicted snow, the event was cancelled. Many were disappointed. High school show choir participants, like Madison Dunn '20, had had the responsibility of hosting the various schools attending and had bought decorations for the room their middle school group would use. "We all spent a bunch of money on decorations which didn't end up being used and the choir department also missed out on raising a ton of money for the department," Dunn said. The events of the 18th were rescheduled to Jan. 31st.
The weather created further obstacles during the group's trip to Davenport on Feb. 16th. In an attempt to avoid the snow, the show choir directors made the decision for Innovation, Johnston's highest-ranking show choir, to perform first, in the hopes of being able to leave Davenport earlier. Despite the earlier start back, the group was stuck in Newton, IA for several hours, due to worsening road conditions and a travel ban on I-80. Ultimately, the best option was to have all show choir participants stay in hotels in Newton overnight. All members returned to Johnston at 10 am on the 17th: eight hours later than expected. Time was not the only expense. "Having us stay at hotels overnight must have cost the choir department a ton of money, since there are probably close to 200 people in the program and 4 or so people staying in each room," Dunn said.
As of now, no explicit compensation policy for monetary losses exists; activities and sponsors bear the majority of costs. "In some cases, reimbursements are made," Kacer said. "I am just not fully aware of the scale of any club costs that are associated with a cancelled day of school."
Perhaps the most important policy to consider is one pertaining to making up missed school days. Two things are considered when making up school days: teachers and the number of school hours. First, teachers are contracted employment for a certain number of school days. Regardless of school being in session, teachers would still be paid. Second, a minimum number of hours (1,080 hours for the Johnston school district) must be reported to the State. However, Johnston currently has exceeded the minimum by over 10 days' worth of hours. "At this point, we wouldn't necessarily have to make up those days, but the question becomes, if teachers would be here earning money, what would we want to do with teachers?" Kacer said.
The school board recently discussed the policy at a board meeting on Feb. 25 and will be messaging district wide about tentative snow day plans.
"
I can't see us ever going away from being 'safety first' minded.
— Laura Kacer, superintendent
Teachers generally don't mind the choices of the school board. "I blame the cold and global warming, but I don't blame the school board," Cline said. "I wouldn't want to be making the decisions they have to make, and the ramifications if they choose wrong are too big."
Students on the other hand typically have an opinion on the school board's decisions. Sometimes, students will even reach out to the superintendent and inquire about cancellations. "I have a couple of guys who will regularly send me emails inquiring about weather related school decisions; I refer to them as my weather watchers," Kacer said. "I think their motive is well intentioned and they do encourage me to cancel school."
While most students often wish for school to be cancelled, they understand the severity of the situation and the effects it can have. "The district has handled these situations very well for us," Robilliard said. "The safety of the kids has been the highest priority."
It is extremely likely that bad weather will continue to affect the school district in the future, if not within this school year itself. Thankfully, the policy continues to keep the best interests of students in mind.