Start preparing early
November 18, 2016
Caffrey's name goes on all the deny letters to students who are not admitted to the school, and it frustrates him the amount of appeals he gets from parents and students. "Your cumulative grade point average and class rank are determined every bit as much by the grades you earn earned in ninth grade as much as the grades you earn your senior year." Caffrey said.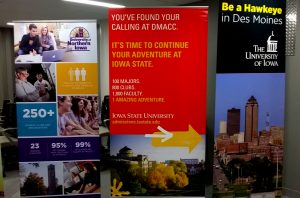 It is important for students to be working hard all throughout their high school career, not just their junior and senior years. "In other words, a lot of students going into ninth grade don't realize how significant those grades are. They count just as much towards your chances of being admitted to Iowa State as the grades you earn your final semester of high school." Caffrey said.
Grades, homework and working on time management skills are the most important things high school students can be doing now to prepare for college. While the whole process can seem extremely daunting and stressful at first, using resources available to high school students now will prove helpful in the end.