Seniors compete at state mock trial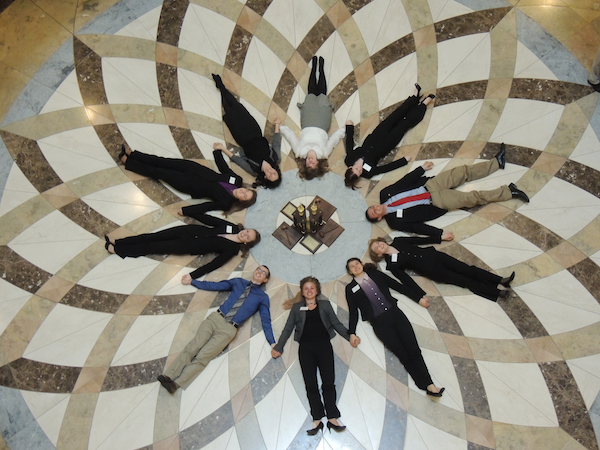 Stanzy Snyder, senior, recites her defense lines in front of an attorney and fellow teammates, a role she normally does not play. The nerve wrecking experience took place due to an absence on the team. Snyder never truly practiced it out loud before the competition but had mentally prepared just in case she had to step in for senior Carmen Vajgrt.
"I just had to tell myself that everything was going to be okay and that I had it all under control," Snyder said. "Panicking wasn't going to get me anywhere."
Vajgrt's decision was hard to make since she had been on the team for so long. Vajgrt had felt sick from just sitting down listening to the opposing team during the trial the day before.
"I felt like I had swam ten miles, my body was just exhausted," Vajgrt said. That following day she had missed the first trial due to illness. Vajgrt planned on going to the second trial until she got sick again and decided to stay home.
"It wasn't, 'okay, I'm just going to decide not to go', it was that I would be hurting the team more if I went," Vajgrt said.
Three teams participated in state mock trial at Community Choice Credit Union Convention Center. The competition began March 27 and went on until March 29. The first day they had one trial, the second day they had two, and on the third day they had semi-finals and finals. All three qualifying teams competed in the first three out of the five trials with team G.O.B.A. advancing to the final four. The last two rounds were held at the state judicial building. G.O.B.A also won the Critellli award for sportsmanship.
Not only did the teams stand out during the competitions but individuals rose to the stands as well. Senior John Koopal, won outstanding witness on team G.O.B.A., senior Jeremy Caracci won outstanding attorney on team Res Ipsa Loquitur, and Senior Millie Varley won outstanding attorney for team G.O.B.A.
"[Mock Trial is] pretty pressure filled, but they like it," mock trial coordinator Sue Cline said. "It blows my mind."
Team Res Ipsa Loquitur had to experience the pressure first hand when Vajgrt got sick during state.
"It was very scary for us because I had been feeling sick that week leading up to it," senior Jonathan Caracci said. The alternates had already been contacted about being ready to go just in case Jonathan had to be replaced. Thursday Vajgrt called in sick for the competition meaning they had to fill in. This was the teams first time since the seventh grade that they had to use an alternate.
"It was stressful until the competition started and our alternates did a great job," Jonathan said. "People couldn't even tell that they were alternates."