"The Hangout" promises safe place for those interested in mental health
An addition to the bulletin boards around JHS boasts of a new activity called "The Hangout", which was covered briefly in the mental health assembly back in January. The poster says, "Break the stigma. Be okay. Be yourself." It provides information about the idea of a safe place for those struggling with mental health in any way.
"The goal of the Hangout is to provide a space for young people to come together to share experiences with mental health, break the mental health stigma, get education on mental health, but primarily just to be able to "hangout" with other young people that have a similar interest in mental health," Executive Director of the Please Pass the Love (PPL) initiative Jen Wells said. The PPL initiative was responsible for the mental health assembly, created the idea for the Hangout and orchestrates it.
Student Council has not talked much about it since the assembly. "At one of our Friday meetings, I believe we talked about the assembly as a whole, but not specifically the Hangout," Kate Irwin, a member of Student Council said. But she does believe it would be a good thing to attend. "I think its important to be able to support your peers. It would also create the opportunity for students who wouldn't have normally met to come together. It would provide students with support, but also help them experience a support group in a new way."
The Hangout has a noble goal, and is open to sharing the road to that goal with anyone. "It is for those with a mental illness, those that have friends and/or family with a mental illness, and especially for those that understand what an issue this is for those around them and may want more information/education on how to break down the stigma," Wells said. The club is open for anyone, not just people who are dealing directly with mental illnesses.
The first meeting is April 15 and will continue on the second Sunday of each month. "The first meeting we will have some young people share their own experiences of themselves and loved ones with mental illness," Wells said. "We will do some brief education about what mental illness is and some other basics. Next month we'll be doing some coping skills.  Each month we want to spend time empowering our young people either with a short speaker, art therapy, therapy dogs, et cetera."
PPL is, above anything else, an initiative to help young people have a safe place to meet with others. "One of the things we know is that there is not a place for young people to come together to talk with others about mental illness," Wells said. "We also believe that young people are incredibly powerful and influential and when equipped with the right tools they can be very valuable in helping themselves and each other."
About the Contributor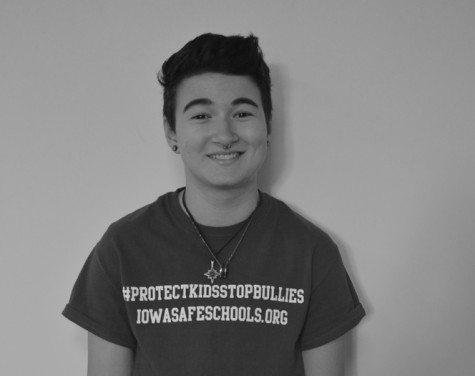 Casey Metcalf, Staff Writer
Casey is a senior and has taken on the role of opinion editor this year. This role is a stretch for him. He never likes to be opinionated and prefers to...