The Hate U Give, A Must See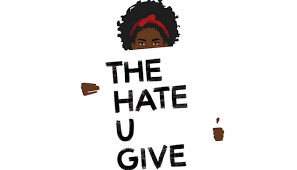 "The Hate U Give" is a New York Times bestseller by Angie Thomas.  Thomas started writing the book in 2011 based off the shooting of Oscar Grant in 2009. The book was a sensation when it was first released in October 2017.Recently the movie adaptation has come out in theaters and has been a hit, with a 97% approval rating on Rotten Tomatoes.
The story follows the life of an African American teen named Starr Carter. Starr balances two worlds between her home Garden Heights, a run down neighborhood with lots of gang violence, and the upper class, predominantly white high school she attends, Williamson Prep. One night, Starr attends a Garden Heights Party that it is interrupted by gun fire. Starr catches a ride home with childhood friend Khalil. While driving they are stopped by a police officer for failing to signal a lane change. Khalil is asked to step out of the car and he does as asked. While Khalil is outside the car he opens the driver side door to check on Starr. Then Khalil is shot by the cop three times and killed. Starr is faced with a choice to either speak out as the only witness to Khalil's shooting, or give in to the threats from the Garden Heights gang and stay silent.
It is hard to not like this movie. It does not just focus on one problem, like some might assume, but it actually has an array of conflicts including gang violence, white privilege, and Starr's constant code switching. "The Hate U Give" is the perfect combination of a coming of age story, and the heavy topics of police brutality and race relations. 
The movie does not stray far away from the books, unlike some other book to movie adaptations, using the book almost as a script in the first few scenes. If the movie was drastically different from the book my feelings towards it would have not been the same; Thomas took many complicated social issues and put them together perfectly in the book. In the film her touch is apparent. Thomas is the executive producer for the movie so she had a large say in how it turned out. 
Where the film started to fall short for me is in the character development and relationships between some particular characters. Two that I noticed are Chris, Starr's boyfriend, and her uncle Carlos.
KJ Appa, who plays Chris, in my opinion did not give the strongest performance and as a result the character suffered. This character had lots of potential to be something more, but instead his main conflict of him being white and Starrs father, Malcom not approving of their relationship, was condensed down to only a few short lines in the movie. So as a result Chris becomes the bland supporting boyfriend character that has been copied in so many teen romances. So once Chris and Starr have their inevitable relationship problems, the relationship becomes something that is forced down the viewers' throats.
Starr's uncle Carlos, is an African American police officer that serves in the Garden Heights area in the same division as the officer who shot Khalil. Just like Chris his struggle is cut down and thrown in near the end of the film. In his brief character development he tries to defend police shootings to Starr by explaining to her what might be going through an officers head during a possible shooting situation. Starr dismisses his argument and the plot pushes forward.
Now of course I will say everyone should see this movie. But also bring some friends along. Laugh in the comedic moments because it is not just a sad movie like some assume. Cry at the end when the acronym T.H.U.G.L.I.F.E is truly explained. Go through all the emotions the movie hands out. Then when leaving the theater talk about it with friends, or start a conversation online. I also recommend reading Thomas's book to get the full picture.
"The Hate U Give" is a powerful and emotional film. It brings the viewer into a situation they might have never been in before. Or that some viewers know all too well. For being incredibly eyeopening to some, and relatable for others, I feel that the movie does deserves a watch and consideration no matter age, race, religion, or beliefs.