The Modern Mullet
The Mullet is making a comeback, but is it a good one?
Mullets were popularized by Billy Ray Cyrus, David Bowie, Charlie Sheen and George Clooney, they all rocked the cut in the 70's – 80's. Since then the hair cut was put away, until they came back in Stranger Things with Billy in season 2-3. But is this hair cut for men and the occasional women who can't decide between short or long hair? Maybe add some curl or the occasional straight mullet in the bunch, or just a plain perm with the extra shave on the side, is this hair style that many legends rocked, really worth going back to?
While the kids around school have brought back the mullet hair style, Principle Ryan Woods wore it back when they were originally popular. Shoulder length and straight, he rocked his own mullet when they were popular but sadly, as years went by, it has since disappeared.
James Edwards '20 is part of a school wide group of students who have mullets. Edwards has the old school mullet instead of the modern mullet where the sides are faded and shaved. "It is the greatest haircut alive. There's nothing that will ever compare to it." Edwards said.
Edwards does not do anything with his hair not even brush those luscious locks of his. When it comes to who started the mullets, "I know I was the first." Edwards said. He believes that the kids now with fades and all that other stuff is unnecessary. "Why not stick with the heart of America?" Edwards said.
While Edwards has an actual mullet and thinks he's rocking the 'do, kids around the school think otherwise about kids wearing mullets.
Elli Churchill '21 is not a very big fan of the mullets, but Churchill thinks that the shaved sides of the mullet does give the mullet a bit of a modern look to the old hair style. Besides the new additions, such as the shaved sides to the mullets giving it a new but modern look, they should not have come back at all. "No, They should have been left in the past." Churchill said.
Zachary Parish '21 has stronger feelings about this hairstyle that males around the school have made a liking to. "I think they are beyond stupid," Parish said. "The 80's and 90's brought back something, but mullets are one of the things they left there in that time period. They aren't hurting anybody. If you want it as your hair, its your hair." While Parish believes that if someone else's hair they can do anything to it but he still feels although the shaved sides do make the hairstyle a bit weird.
Taylor Wilkinson '21 agrees with Parish. "I honestly think they are kinda weird, and do not get why people think they are cool, I think that it is a trend that should have stayed in the past," Wilkinson said. Wilkinson's opinion changes when the modern twist ,such as the shaved sides, to this old hair style comes around. "I think it makes them look a little better if its shaved on the sides, but it does not help that much," Wilkinson said.
While the modern look is controversial, the perm is an old twist to the new, but old style.
Wilkinson does not hesitate when she expresses her feelings about the perms to the old due. "No, not at all, mullets should not be permed," Wilkinson said. Wilkinson expresses that they would look better longer and more straight than the bunched up perm look.
Mullets seem to be unpopular among kids around the school, but others think they are pretty great. Only time will tell if they stay or if they go back to the 70's and 80's where the legends wore them.
About the Writer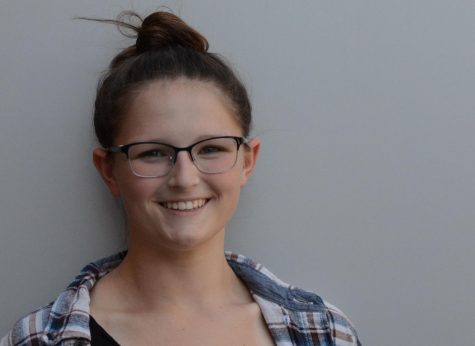 Riley Anderson, Staff Writer
Riley is an adventurous person who is very energetic. She is an elephant in a glass room sometimes but when she isn't being clumsy, she loves to read and...