Therapy pets visit students during Dragon Time
Over the last three weeks of March and the first week of April, guidance counselor Lisa Boge has been hosting a therapy pets dragon time. This Dragon Time consists of a few therapy animals coming in and comforting the students at the high school. The program that comes in is called TheraPets and their goal is to connect people with animals who bring happiness and comfort. The TheraPets program started two years ago to help people using animals. Some of the animals that are brought in include cats, dogs, rabbits, parrots and Webster the therapy duck. There are 10 students allowed per animal and after 10 minutes the students will switch to another animal.
There were some difficulties in getting the program to come to the high school. "Some people have trauma and allergies and we have to look at the legality. I've been dreaming about it for years," Boge said.
Boge has been a counselor at Johnston for five years and is very passionate about mental health. "Everywhere there are mental health things going on," Boge said. "I think the more we talk about it and the more we try to squash the stigma around it and as we become more educated and aware we can find ways to deal with it."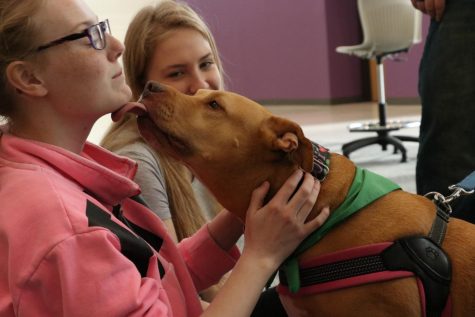 The pets can help a lot of people in many different ways. "Visits from pets can assist in lowering blood pressure, treating depression and anxiety, improving physical and mental stimulation, and enhancing the quality of life. Animals do not judge and are not discriminatory with their affection; meaning they don't care what a person looks like, about their past, they listen to your troubles, comfort you when you're sad, and no matter what they're always happy to see you!" TheraPets employee Caitlin McAuliffe said.
McAuliffe has been working for the ARL TheraPets program for almost three years. She works 65 TheraPets animal teams which include dogs, cats, bunnies, guinea pigs, and a duck. The program was started by the Blumenthal family when they made a donation in order to see more pet therapy in the area. 
The stigma against mental health is something that Boge wishes to overcome. "The issues have always been there but nobody talked about it," Boge said. "And now that we're talking about it there's more information and more research. People realize that it doesn't define them and that they are more than their disease. Now we're educated and we know there is hope, we now see that it doesn't define you."
The hope is that the TheraPets program can help lessen the negative effects of mental health in Johnston and that it can become more common at school, possibly leading to TheraPets visiting study halls.