Track Athletes Compete At The Drake Relays
19 track athletes competed at the 2019 Drake Relays from April 24 to April 27. Aaron Potter '19 competed in the shot put. He threw 48 feet 5 inches and placed 21st. Luke Perman '19 ran in the 3200 meter run. His time was 9:44.45 and he placed 12th. Brooke McKee '20, Bella Heikes '21, and Aleah Tenpas '19 all ran in the girls 3200 meter run. McKee ran 10:24.35 and placed 9th, Heikes ran 10:25.87 and placed 10th and Tenpas ran 10:30.88 and placed 14th. The boys distance medley relay team started their race in the top three, but they got disqualified for dropping a baton during a handoff. Avery Kamienski '19, Sam Strauss '21, Jaden Studer '20, and Chloe Fehn '20 raced in the girls 4×200 meter relay. Their time was 1:45.93. which was good enough for 13th place. Heikes also competed in the 800 meter run. Her time was 2:20.12, which got her 14th place. Joe Schaefer '19 won the boys 800 meter run with a time of 1:54.13. This was the first of Schaefer's three championships that he won at this year's Drake Relays. Kamienski, Heikes, Strauss, and Fehn ran in the girls 4×800 meter relay. They placed 8th with a time of 9:35.53. Carter Borwick '21, Karson Kleve '20, Michael Schmitz '19, and Schaefer won the 4×800 meter relay. Their time was 7:58.66. Kamienski, Strauss, Faith Nead '22, and Fehn placed 9th in the 4×400 with a time of 4:02.81. Emma Roethler '21, Studer, Strauss, and Fehn placed 36th in the 4×100 meter relay with a time of 51.58. The boys 4×100 meter relay team got disqualified for a botched handoff. Heikes, McKee, and Tenpas all ran in the 1500 meter run. Heikes placed 12th with a time of 4:50.11, McKee placed 14th with a time of 4:51.55, and Tenpas placed 15th with a time of 4:52.29. Schaefer won the 1600 meter run with a time of 4:21.33. Schaefer won the Most Outstanding Boys High School Athlete award for his outstanding performance. This is the first time a Johnston athlete has ever won the award and the first time a Johnston athlete has finished first place at three separate events at the Drake Relays.
About the Contributor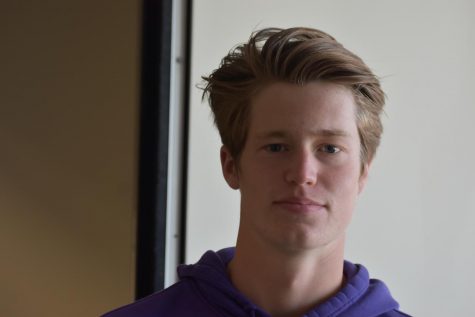 Joel Kellar, Sports Editor
Joel Kellar is a Senior and this is his fifth semester on the news staff and his second year as Sports Editor. He enjoys playing the french horn and does...