Zanzibar's Coffee Adventure: a unique and cozy experience
Zanzibar's Coffee Adventure, located at 2723 Ingersoll Avenue in Des Moines, is described as an "enduring, local art-filled coffee shop with in-house roasting and all-day breakfast in cozy surroundings.  This small coffee shop is known for its unique beverages and homemade pastries, but its sale of Arabica coffee beans, which are a specialty of the "Southwestern highlands of Ethiopia". Walking into Zanzibar's for the first time was definitely an experience, as I was immediately overwhelmed with the smell of coffee beans and baked goods. After inspecting the menu for a few minutes, I decided to try a variety of beverages and breakfast items they had to offer.
The first drink I decided to try was the Sweet Cream Coffee. This was a seasonal beverage, so I'm assuming that it's only offered in the spring/summer months. There wasn't a description of the drink up on the menu or online, but it looked to be a light roast iced coffee with sweetened condensed milk as the "sweet cream". It was very refreshing and sweet, and might have been the best iced coffee I've ever had. Sweetened condensed milk actually turned out to be a really good sweetener, as it had more of a thicker consistency and wasn't overly and artificially sweet like other coffee creamers. Overall, I highly recommend the Sweet Cream Coffee to anyone who loves iced coffee.
The next drink that stuck my attention was another seasonal beverage, the Rose Lemonade. There wasn't a description for this drink either, but it looked like a standard fresh-squeezed lemonade with what I assumed was rose water for the rose flavor. It was a really good and fresh lemonade, but it was lacking the rose flavor that was promised. I kind of figured that the rose flavor wouldn't come through, as rose is a very faint flavor that is hard to fully identify when used as an ingredient, especially in a drink with a strong flavor, like lemonade. However, the lemonade overall was incredible, it had a strong lemon flavor while also sweet and refreshing, making it the perfect summer beverage.
The last drink I chose was the Zippy Chai Tea. This was a chai tea with extra spice, which is a creamy black tea with a mixture of Indian spices and herbs. The appearance of the tea was so unique, as it had different layers of what went into it. The best way I can describe the flavor of the Zippy Chai Tea was that it tasted like fall. It was very similar to a much more flavorful Pumpkin Spice Latte, with more spices. This tea was maybe the perfect beverage, because it had all sorts of different flavors but it wasn't overly heavy as it was iced. the Zippy Chai Tea might have been my favorite drink overall because of it's unique flavors and appearance.
While all the drinks were very tasty and memorable, I was equally excited for the food Zanzibar's had to offer. As I was ordering the drinks, the platter of huge chocolate croissants caught my eye, so naturally I had to try one, and I was so glad that I had. This croissant was much larger than the average croissant, and it was more crispy on the outside. However, it was still amazing. The dark chocolate baked into the croissant was tolerable with the powdered sugar dusted on top to balance out the bitter flavor. If anyone makes their way out to Zanzibar's, the chocolate croissant is a necessary item to get.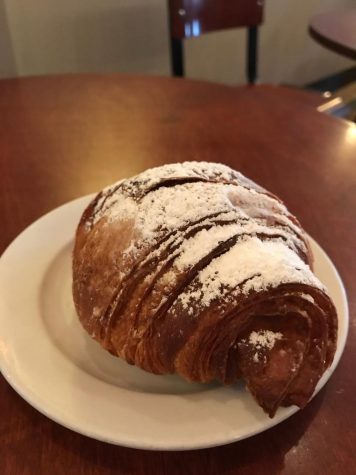 The very last thing I got from Zanzibar's was the "Eggspresso" egg sandwich. It was essentially a breakfast sandwich, composed of scrambled eggs mixed with green onions and cheese inside of a warm and toasted english muffin. The sandwich tasted like the definition of breakfast, the cheesy flavor and sharp green onion flavor balanced each other out perfectly, and the fluffy english muffin tied it all together.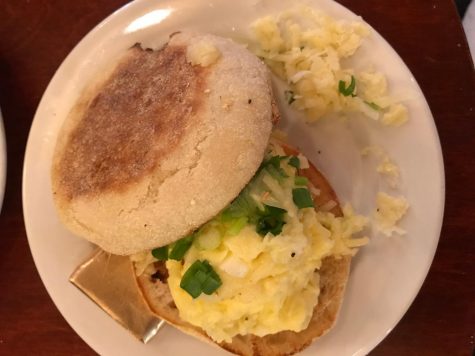 Overall, Zanzibar's exceeded my expectations. It was very cozy and smelled so comforting, and the service was very kind and helpful. The establishment was a little small, which made it seem pretty crowded at times. The only thing about Zanzibar's that was a little weird and off-putting was the "art", or what looked to be the art. There were creepy paper mache sculptures of people on the wall, but the food and beverages make up for it.
But in the end, Ingersoll has some pretty amazing food establishments, and Zanzibar's is no different.