From sophomores to seniors, one student was randomly selected to tell their story. 
Most people spend their evenings out with friends or at different activities. For Davis Cope '24, his evenings consist of filming, editing, and uploading videos for his famous Youtube channel. 
When asked about its origins, he said, "So, I have had a number of Youtube channels. And they had, you know, very successful rates. But I started one in late 2020, I titled it 'The Davis Cope Experience'… it started out with me just reviewing root beer, but I have kind of branched out from that." 
 "I think I just had this random idea. I was in Colorado at the time when I started (making videos), I was living there for a little bit. And there was this soda store called Rocket Fizz, and you can go in there and they had all of these sodas that you can pick from and I picked out a couple and I was walking back to where I was staying at the moment. I had this idea where it came to me like 'oh I could make like videos out of this' and then I emailed it to my family because I didn't have a Youtube channel at the time. And so it started out as that, just my family. And then more family members wanted to see it and I was like 'Well, I could just upload it onto Youtube' and so I did that."  
However, not everyone is a fan of Cope's passion for Youtube. 
"My parents aren't huge fans of it. They think it's just kind of one of those things, like a phase."
While many people have been able to make a career out of Youtube, for others, like Cope, it is just a hobby. 
"First off, I am making no money from it, I'm losing money rather than making it. I make no money. But at the moment, it currently is a hobby… When I am an adult living on my own I can do crazier things."
Cope reflects back on how his channel has grown, "I have done almost 100 episodes of that show. Some are like 45 seconds long, some are like 20 minutes long. It just kind of happens. But I want to have it become a weekly series."
Youtube isn't the only thing in Cope's interests.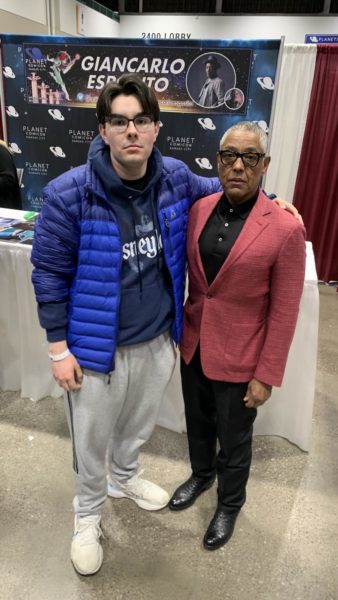 "I love movies. I think I have made Youtube videos about movies. But I think during COVID, it became like my new hobby. Like, I like collecting DVD's, VHS tapes, Blue-rays." 
Cope's obsession led him to subscribe to the AMC Stubs A-List at the AMC theater in Johnston. 
"I probably spend too much money on that subscription service. But you can see 3 movies a week, and I try to max that out." 
Cope's love for movies doesn't stop at just watching them.  When asked about where he sees himself in the future, he responded, "I would have a script-writing job for movies, I would be a film director, living financially well." 
"I have a short film already in mind, I was working on it last class. I have this idea where I make the short film and I upload this short film onto my Youtube channel. And if I like it, if I like my product that I made, I could maybe make a sequel or something like that. It's a stop motion in my mind, a stop motion film going through my head. I love coming up with ideas… I love typing ideas that just come to my mind. I have comic book ideas, movie ideas in my mind." 
Cope has been described by his peers as someone who does not care what people think of him and someone who lives his life by his own rules. 
"You only live once," Cope says. "You are on this earth for a period of time. No time like the present. I think there is not a real reason to restrain yourself. Not be who you are? Why would you do that?" 
Cope's mindset is the kind that almost all high school students wish that they could achieve. 
"I like to say 'one day at a time'… 'live everyday like it's your last'. That doesn't mean you go on like a law breaking rampage. But yeah, 'one day at a time', 'no time like the present'. I think that's a solid way to live life," Cope advises to others who want to live that kind of lifestyle.